Top Pros and Cons of Flutter App Development
June 21, 2022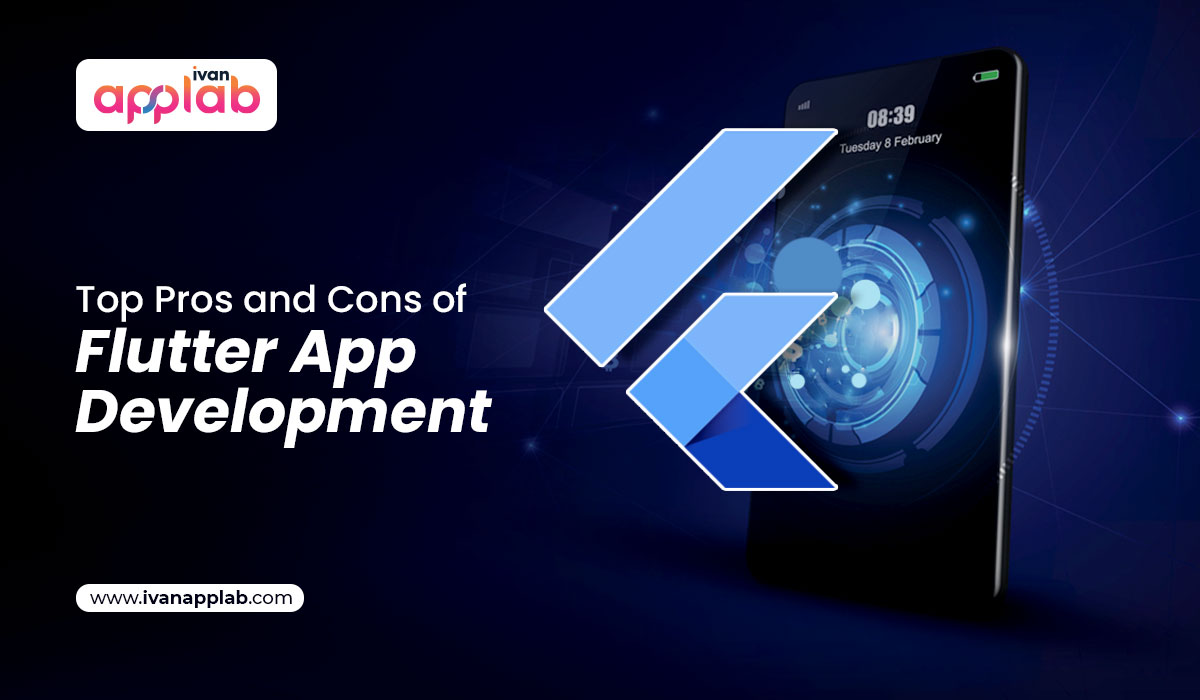 Have you been considering the usage of flutter as the latest technology for your app?
Well, for the last few years and lesser than a decade, flutter app development services have been gaining extreme popularity. It has eventually turned out to be the most requested cross-platform technology on Stack Overflow. Since Google had first stated the idea of flutter in 2017 and a bunch of flutter developers have emerged in 2018, it has only gained new heights of popularity. The sole reason for its immense appreciation and recognition is that it is based on a single code and much easier to maintain. 
What exactly is a Flutter?
Flutter is an open-source mobile framework for UI that enabled the developers to create the native-looking android and ios applications. It is actually a software development kit (SDK) for building various engaging cross-platform mobile applications.
Dart being the development language for the different Flutter apps, it is used to write the flutter-supported compiling codes on both android and ios. It is really a unique cross-platform tool that does not require any kind of intermediate elements for connecting to various features of a device like Bluetooth and camera. It thereby helps in boosting the performance and also builds unique and engaging UI. The strong suit of the flutter aids in creating various custom designs for the different applications. Due to all these benefits that the flutter app presents, businesses are opting for flutter mobile app development services.
The Pros and Cons of Flutter App Development Services
Although flutter was initiated as a startup. However, later Google acquired it. Flutter's rise of significance has been contributing to its increased usage. It not only provides just a fast and easy code writing but offers the native app building feature which in turn provides a better user experience overall. However, Flutter App Development might have innumerable benefits, but how suitable is it for your project?
Let's find out the different advantages and disadvantages that Flutter App Development Services bring.
Pros
Here is the list of pros of the Flutter App Development:
Single Code Base
One of the greatest advantages of Flutter is that it is based on a single code. Once you write the code, you can run it anywhere. Therefore, it enables faster build in time, saves the resources and at the same time simplifies the code maintenance. 
Open Source
Flutter being an open-source framework allows you to get access to the original code. As a result of its open-source nature, you can contribute to the Flutter App Development Service community. 
Web and Desktop Support
With the advancements of Flutter 2.0, it offers stable support for the web and desktop as well. At the present, the flutter developers can not only contribute to mobile app development but also to web apps which provides access to a wider section of ens users. 
Cons
Check out the different disadvantages of Flutter mobile app development services
Emerging Framework
Flutter which is quite a new technology is an emerging framework and as a result, it has limited resources for learning and also quite a small number of plugins.
Lack of Third-Party Libraries
The third-party libraries help the developers with the automating software development process. However, finding out the required libraries and packages for the old and popular technologies is not an issue but doing the same for the new technology turns out to be difficult.
Limited Developers
One of the disadvantages that you might face while seeking Flutter app development services is the shortage of Dart developers who can create codes for the Flutter app. Compared to the other languages like JavaScript, the developers skilled in dart are limited and hence the limited resources for learning Dart.
Flutter plays a crucial role in the app development process and especially for cross-platform apps. Being aware of the flutter app development helps a developer to be skilled in both mobile and web apps. Flutter has been evolving beyond a toolkit for developing cross-platform apps and enabling the Flutter app development will enhance your business operation.