MVP Failure? How Can You Make It Right?
July 29, 2022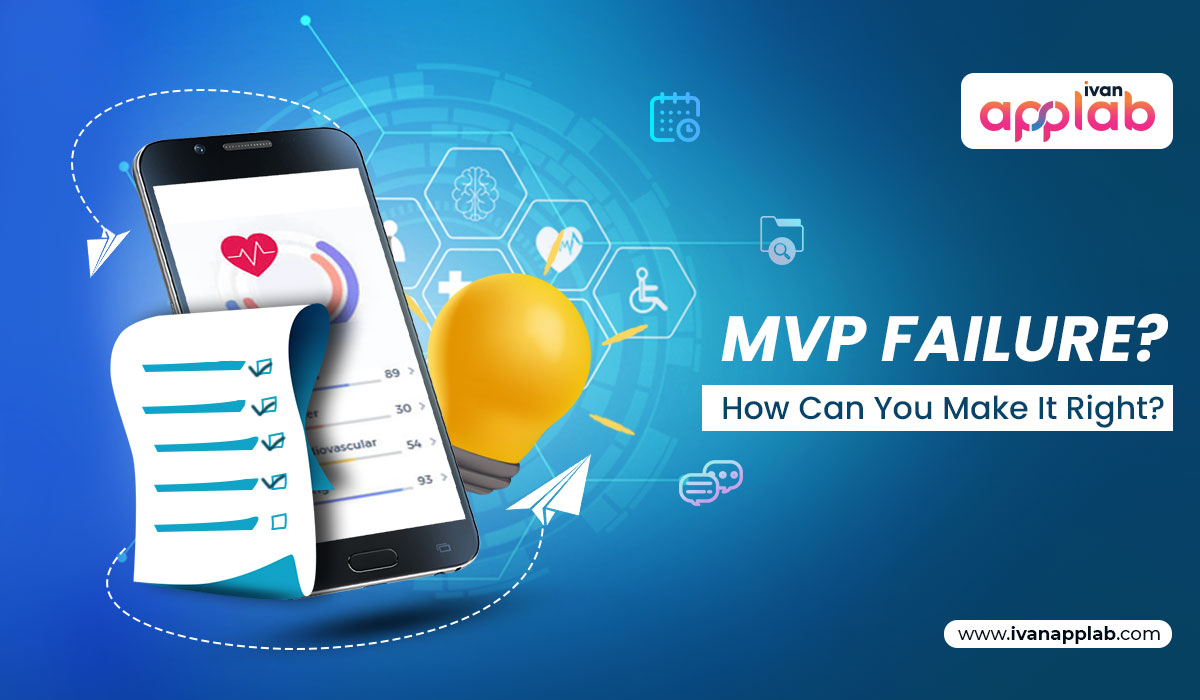 A growing number of funds are being invested in the development of mHealth apps since they are becoming increasingly important. According to Statista, the global mobile health market was worth $23 billion in 2016. By the year 2025, it's predicted to be worth approximately $190 billion. In the digital health market, it's a major growth level.
The custom mhealth app development necessitates a high level of knowledge and precise attention to detail. However, often the health businesses fail while creating MVP for healthcare. Do you know why? Let's dig deeper. 
What is the MVP?
The MVP, also known as the Minimum Viable Product, is the bare-bones version of the product that is ready to be released. Custom mhealth app development business requires the use of a Minimum Viable Product (MVP). You must keep your spending under control while concentrating mainly on the most important elements. It is the finest technique to get feedback from your customers and learn what they think of your project. As a business, you should take those suggestions to heart and implement them into your app if you want it to be an enormous success.
The Reasons for MVPs to Fail
Custom mhealth app development is a complex undertaking that frequently falls short of expectations. It is possible that the app does not suit the needs of the clients. Furthermore, there is fierce rivalry in the market. Apps can be readily replaced if they do not fulfill their intended purpose.
Let's look at the most common blunders and how to avoid them in the future.
Deflated objectives or scopes. When an app doesn't keep up with current trends and market demands, this is what happens. To be successful,

mhealth app development services

you are paying for must be easy to use and suit the needs of their consumers. Before you begin the creation process, make sure to thoroughly research your target audience. Also, study your competitors to get a sense of the current market trends and customer demands.

Lack of clarity and reliability.

Custom mhealth app development

is a very important endeavor. Your product's primary goal should be to make customers' lives easier. Having a complicated interface and a lack of intuitiveness can be a turn-off for customers. You should also make sure the software is safe and reliable. The handling of sensitive medical information necessitates special care.
Finally, if you choose to outsource the custom mhealth app development, make certain that all processes are carried out by professionals that have the appropriate knowledge and competence.. A difficult task, but essential to the success of any medical app is assembling a committed team.
Process of Creating a Successful MVP for mHealth
For healthcare MVPs, you can't just apply your past knowledge of MVPs to the task at hand. The MVP for a medical solution, however, necessitates additional procedures in order to avoid failure.
For healthcare items, there are a number of elements that must be taken into consideration when developing an MVP. One of the first steps is to identify all of the regulations that must be met.
Chalk Out the Requirements 
Chances are, you already know the importance of determining who your customers are and who you'll be competing against while designing software for them. Allow for greater in-depth investigation during the discovery stage.
MVP development for mhealth app development services will almost certainly include healthcare criteria. HIPAA, DPA, GDPR, or other standards may be required depending on where and how your product is utilized. After your medical MVP is built, you may also arrange for third-party audits to verify that you can roll it out without fear of fines. In the meanwhile, we'll save that discussion for another time.
Adequate Planning
The "umbrella" step in developing a healthcare MVP is planning. The process of setting up a new tab in your budget spreadsheet to keep track of your workflows is actually a series of stages.
You'll need to create user personas, a product journey, and a list of essential MVP features. Early planning for them can assist to construct a better MVP for mhealth app development services and limit rework when it is validated, therefore reducing the amount of time and money spent on rework.
You can have a prioritizing approach that can help you decide which features to include in your healthcare MVP. The general rule of thumb is to eliminate all but the most essential features, such as those that are simple to develop, test, and iterate on. Ultimately, the goal is to build a minimum viable product, not a maximum viable product.
Determining the Tech Stack and Designing 
Before you start building anything, you need to decide on the technology you'll use. This boils down to the best technology for compliance in the healthcare industry.
Data security should be built into any ideal tech stack for MVP development for mhealth app development services. In order to protect your MVP from cyber threats and other risks, it should rule out any vulnerabilities on the back-end side.
Ideally, your technology stack should be scalable and easy to change. You can make your MVP a delight for your customers while your developers continue to improve it in response to their feedback with the help of the technologies that guarantee both. A healthcare MVP or full-fledged product can benefit greatly from cloud technology because of this.
Building a tech stack that is compliant with regulations does not necessitate a Ph.D. in technology management. With an understanding of the features you need and your business needs, your software vendor can build it for your company at no extra cost. If you're comfortable working with the vendor's tech stack, they'll design and implement all of the features for you.
Working on Feedbacks 
An MVP serves as a learning laboratory for new ideas. Each of your MVP's features should be tested with user groups when it's released.
That's when you need to bring your MVP to healthcare providers, patients, and other target audiences. Your product's end users should have access to a bias-free feedback portal so that they can share their thoughts on the product, both positive and negative.
Let your vendor of mhealth app development services handle iterative improvements. When enough feedback is gathered, it will improve the technical aspects of your healthcare MVP and develop additional features for your main solution.
Make sure to consult a professional company so that you can make the MVP worth of your investment.