Latest Trends to Check in Wearable App Development Field
September 20, 2022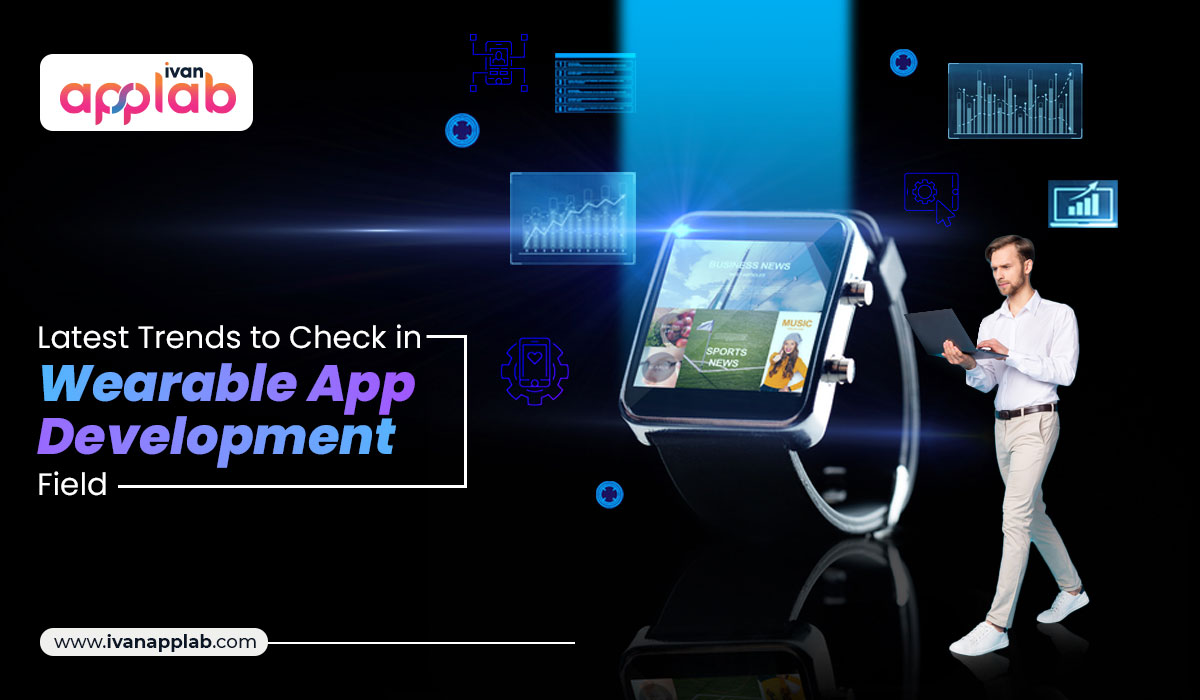 Wearable technology is impacting the mobile app development field, providing services to a wide range of industries with optimal and convenient support. The tech world of the current days plays a major role in mobilizing the next-generation technologies and surpassing the expectations of the global market. 

The first wearable device was invented in 1960. Over the past decades, several devices have been modernized to follow wearable technology and earned much popularity in the market. Be it in the healthcare department or fitness, wearable technology is the latest trend now. 
Some of the popular wearable technologies include Parking, Accuweather, and Spotify. As per the current research, 25% of the US population has brought wearable devices in the year 2022. These devices provide multi-platform support. If you are planning to have wearable apps for business growth, it is crucial to hire a wearable app Development Company that has several years of experience in this field. 
What Is Wearable Technology?
Wearable or wearable technology is a device that can be worn on the body as an accessory, or implanted straight in the user's body and can be embedded in the clothing as a part of textiles and technology. The most demanding wearable devices nowadays include smart watches, smart glasses, and fitness trackers. 
As per Statista, from 2016 to 2019, the number of wearable connected devices doubled, increasing from 320 million to around 722 million. Moreover, by the end of the year, it will grow up to 1 billion due to the evolution of 5G from 4G. 
One of the major features of wearables is that they can make thousands of measurements each day. The user's data can be monitored and measured with the help of smart sensors and microchips embedded in the wearable device. Due to this, the development of this technology is closely linked with the mobile network, reduced microprocessors, and high-speed internet connections. Apart from this, it is true that the connection made via Bluetooth, WI-Fi, and cellular network enhances the user experience. 
Not only the wearables can track biometric data but also has access to applications and offer feedback depending upon the processed information received. 
Why Do You Need To Have Wearable App Development?
The revolution started a couple of years back when APPLE Watch first came on the market the watch, which was just a time-telling machine, overnight became a smart device providing lots of services. Since then, the ongoing demand for wearables has been constantly increasing. 
But The Question Still Remains, Why Do You Need To Use Wearable Apps?
The short answer is that it will help to make life easier. Whether you have worn the wearable device or you have incorporated it into the clothes, the purpose is the same. It provides a constant, convenient, and portable way of life. The benefits of using them include-
They help in tracking data better and have better contribute to maintaining and improving health

Wearable technology is perfect for work and life balance. It helps in improving productivity

Wearable technology has the potential to improve lives and encourage proactive healthcare and also bring active living

Wearable technology also helps in the gamification of personal goals like quitting smoking, reducing a condition, or workout completion. 
Why do you need To Invest In Wearable App?
The future of wearable apps is truly promising and their popularity will not stop soon. The introduction of a smart device is largely boosting the wearable market and it is helping individuals to monitor daily physical activities, monitor heart rate, and track location in the GPS. 
In the year 2019, there were 722 million connected wearable devices that are expected to touch 1 billion this year. One of the major reasons behind the popularity of the wearable device is that it helps in monitoring health and also gives alerts regarding health updates. If you want to have a wearable app for your business, you can take help from an experienced wearable app development company that will assist you in the same. 
How Much Does The Wearable Device App Development Cost?
The cost to develop a wearable app depends upon the business needs, project needs, total working hours, and other factors like-
App UI/UX design

How many features do you need to add?

Which platform do you want to use- Android or iOS?

What type of technology stack are you using?

App testing strategy

Post app launch maintenance and support
What Are The Benefits Of Wearable App Development?
Wearable technology is on the rise for several good reasons. These devices make life easier. There are lots of benefits of using the wearable app and they include-
Fashion Industry, The wearable devices have taken up the fashion industry and do not seem to move over. The use of smart garments and accessories has now become a part of intelligent fashion that combines both style and aesthetics. As per Statista, the global smart clothing is growing immensely from 2018-2025. Smart clothing will reach 5 billion U.S dollars. 
Wearable Device In Healthcare
In 2022 healthcare is not a small matter, and thus, the healthcare industry is accepting innovations for protecting people and improving delivery. Wireless medical sensors are not new in the medical field. From body measurements to measuring sleep, wearable devices are everywhere. 
There are lots of applications of wearable devices in the health industry, they are used in preventive care, treatment decision making, diagnosis, and even healthcare management. 
Wearable Gaming Technology
Gaming and technology always go hand in hand. Wearable gaming techs are one of the developments that have gained much importance these days. The gaming wearables include VR wearables and Haptic devices. 
Besides the "WOW" factor, there are lots of advantages of wearable app development, they improve the standard of living. These devices bring out contactless business activities and offer on-demand facilities. If you are having an idea for wearable app development and want to create one for your brand, contact the team from Ivan AppLab to get an effective and high-end app as per your business need.