How Chatbots And AI Are Transforming App Development Field?
November 24, 2022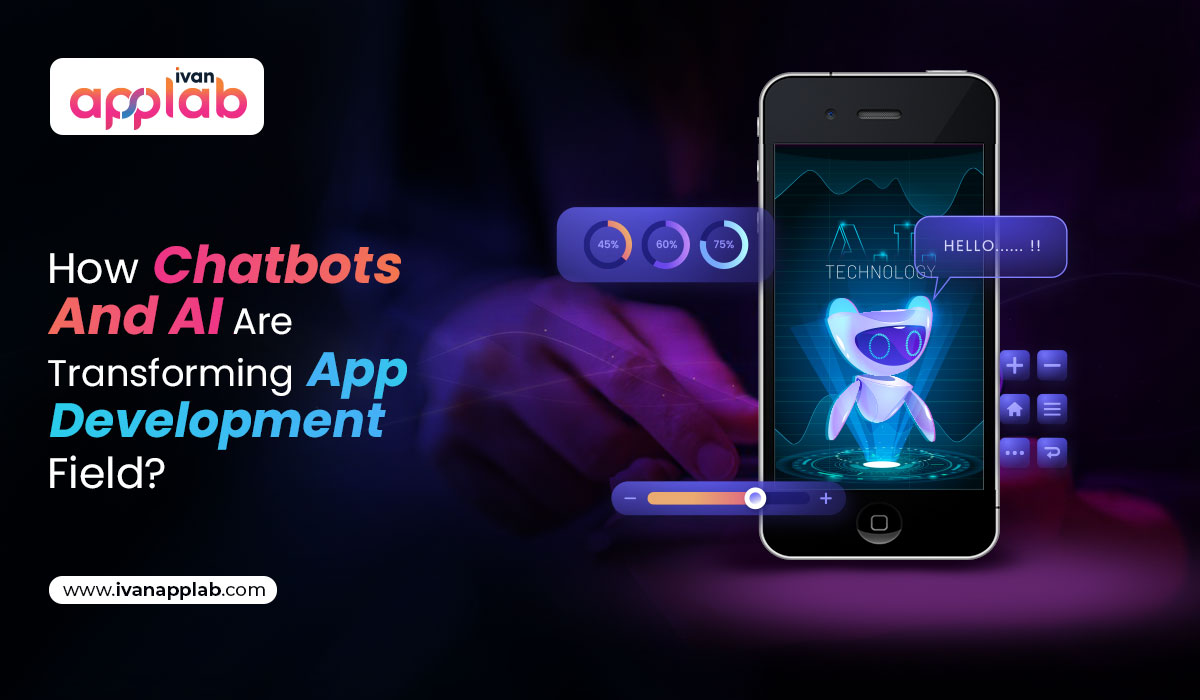 Chatbots are not a new thing in the development field. It is been around for quite a long time, but, finally, it has become too popular among developers. It has made a huge impact on each sector in the past few years.
Nowadays, Chatbots are one of the popular platforms for communication. People were using this technology to improve customer service. But, recently, chatbots have evolved largely. For example, in the case of mobile apps, chatbots and AI have made a good impact. If you are thinking to have a chatbot on your website or mobile app, you can have AI Chatbot app development services from a reputed development company having extensive years of experience in this field.
How are Chatbots And AI Transforming Mobile Apps?
The Chatbots And AI Are Making A Huge Change In The Mobile Application Development Trend. The Changes Are Described Below-
CHATBOTS MAKE EXCITING OPPORTUNITIES FOR APPLICATIONS
One of the major reasons why Chatbots have become so popular in the current days is that they can revolutionise the customer experience. Chatbots have taken the UX to a next level. With the implementation of AI and Chatbots in action, Android and iOS app development fields have witnessed lots of opportunities.
The advancement in AI has brought lots of innovations in UI/UX designs. It has also increased the trust factor. So, as a whole, the app development field has gotten lots of benefits with the implementation of AI and Chatbots.
BOTS ARE THE NEXT-GENERATION MOBILE APPLICATION
With the advancement in technology, chatbots play the role of UI in several mobile applications. Messaging apps have also gained attention in the current times and that's where AI Chatbots have played an integral role. Intelligent Chatbot Apps are one of the latest chatbot trends in the year 2019. Hence, you can say that the mobile app development field is moving towards AI and chatbot technology. 
Security has become one of the important concerns in today's mobile app development field. In the last few years, security has taken away the sleep of app developers. That is the reason, why AI and chatbots have played an important role. These technologies will help you in identifying the threats in the channel. Apart from these, AI also helps you in improving mobile app security. Hence, you can say that, with the help of AI and Chatbot, you can bring lots of transformation in mobile app development. So, if you have not yet installed the Chatbots, it is the right time to do.
GREAT CONVERSATIONAL EXPERIENCE
The conversational experience plays an important role in the overall success of mobile apps. Hence, it becomes quite essential for all business owners to be aware of it. With the help of an AI platform, you can boost the conversational experience of the users. It will help in increasing flexibility for managing people. You are also able to manage the clients at one time and also offer the right solutions. So, what you are waiting for? Start to adopt AI and Chatbot and also ensure better growth in the business. 
With the proper AI chatbot app development services, developing a great platform is a good thing. But, if you are not able to promote that app, you will not be having the results you are looking for. This means that the weight of marketing is important in the development process. You have to take care of these things.
To solve all these issues, AI and chatbots come to the rescue. It will help in getting real-time demographics and also helps you to make better marketing of the products.
Personalisation has been one of the best factors in mobile application promotions. Users these days love to have personalisation and hence, it has become important for mobile app developers to know about it. Hence, AI and Chatbots play a vital role in offering accurate recommendations.
These are some of the changes you can witness in the mobile app development field due to the installation of chatbots and AI. If you are planning to have one for your business, consult the team from a reputed development company.