Get Reacquainted With The Popular Categories Under Android Applications
December 15, 2022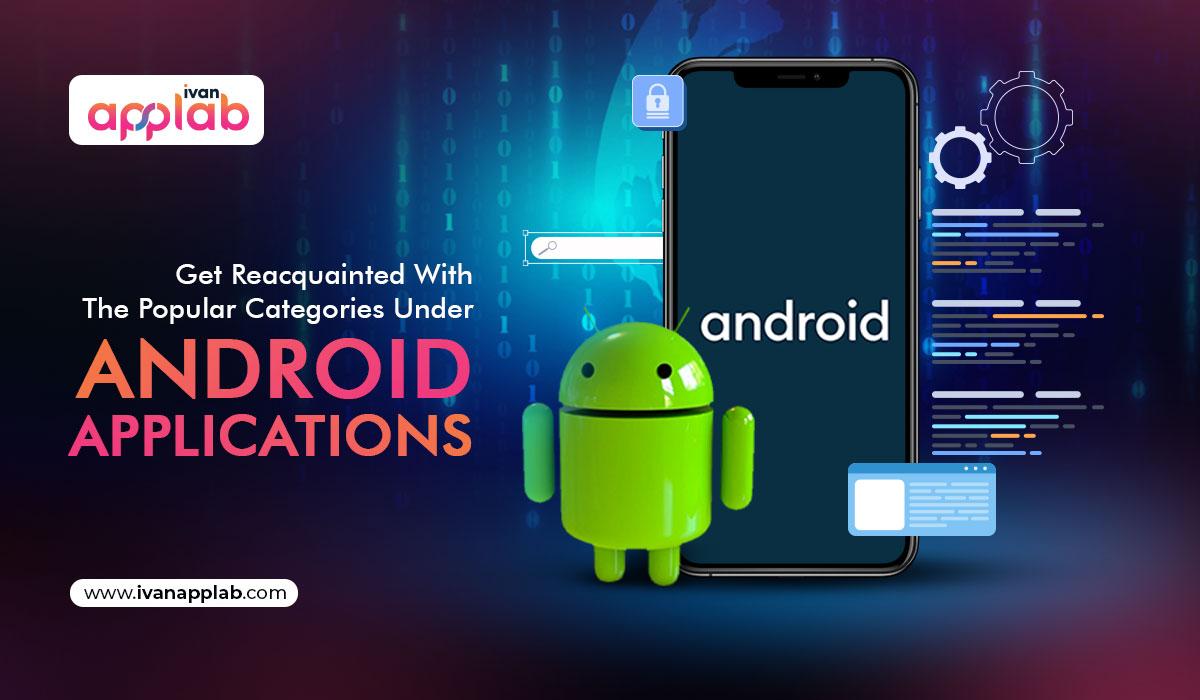 Creating a popular mobile app is a high priority for most entrepreneurs when it comes to business strategies. With the fast-paced growth of the app market, business heads should reroute capital to Android professionals offering Android application development services. These experts have the capacity to tackle the complete development lifecycle beginning from ideation to support and maintenance.
The question is, what type of Android app are you looking to build?
Popular Categories of Android Applications
Establishing in which category to insert your mobile app idea is a crucial step to convert your concept into a reality. Make sure you consider this before opting for Android application development services.
Lifestyle apps
There has been a rise in the number of lifestyle apps these days to accommodate the needs of the digital-first consumers. These are the sorts of apps that get the ball rolling or assist users with different aspects that benefit their lifestyle. Some types of lifestyle apps include music, fitness, travel, food, dating apps and so on.
What is relevant about these apps is that after a user has installed it, they are not likely to delete it after a while. Users frequently open these apps to look for restaurant recommendations, to search for trending music or to pick their next travel destination. These are the types of apps that allow users to know their preferences and bring positive activities in their lives.
With Android app development services you can build a distinct lifestyle app for enthusiastic users.
Utility apps
Apps that bring higher efficiency and ease in minor routine tasks are termed as utility apps. These are the kind of apps that users don't pay much attention to, using them to solve small tasks. Often utility apps are the default apps that come with your device.
Apps in this category include weather forecast, calculator, reminders, flashlight, notes, QR code scanners and so on.
Rather than using them for long periods, people use these apps frequently for short time periods. You'd typically open the weather app to check the weather for a particular day and then close it at once when you're done.
App owners can use monetization strategies to encourage users to open their apps more frequently. This way, frequent short visits can cumulatively boost your revenue.
Educational apps
Instruction-based or educational apps are meant to teach and streamline learning for people, regardless of their age. Though the goal of this sort of app is pretty simple, you will find that there are several sub-categories within educational apps. Prospective app owners looking to build educational apps would need to include add value aspects to the apps to hold the interest of their users which would typically involve people of varying ages and comprehension levels and learning styles. Are you planning on creating an educational app using Android application development services?
Social media apps
Social media apps are highly popular among the various types of apps on the market. Once users build the social network they tend to check and engage with these apps on a daily basis. These apps are designed to offer users a platform to interact with people they know and those that they would like to get to know. Social media apps typically involve global users from diverse backgrounds. Users interact with others, share posts, photos and videos and more. This type of app has been around for a while now and is not likely to lose popularity anytime soon.
Entertainment/Games apps
Gaming apps are arguably the most popular type of apps with a user base that's competitive and large. The function of gaming apps is obvious, it offers an engaging and convenient platform for users to play games. Users hardly need incentive to frequently engage with these apps, using them several times a week or even many times in a day. Game apps are highly successful when users not only use them for long durations but also on a frequent basis.
It's important to figure out the category under which your app idea will fit before opting for Android application development services.