How Businesses Of All Sizes Can Benefit From mCommerce Apps
November 15, 2022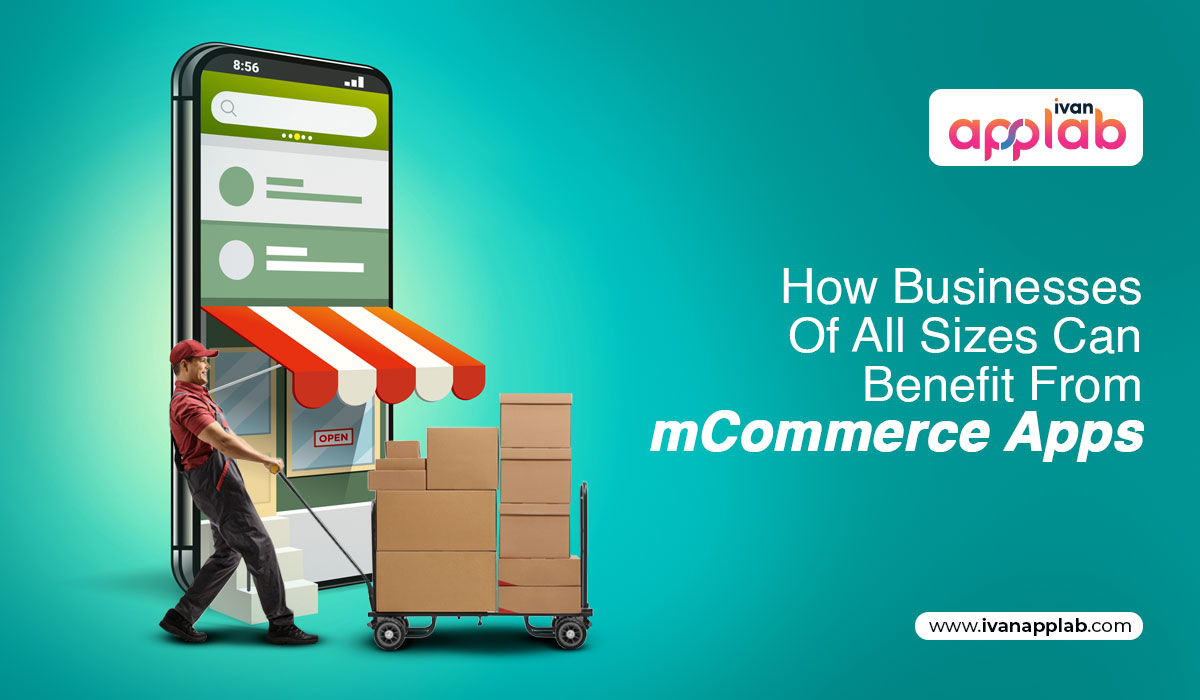 The popularity of ecommerce has steadily risen over the past decades, nevertheless, these days mCommerce has the upper hand in the realm of shopping and payments.
MCommerce involves users making purchases or payments via their smartphone or other smart device, whereas in e-commerce these digital actions are carried out via a computer.
The breakthroughs in technology have meant that mCommerce is now the norm, raising the bar in terms of ease of use for mobile shopping. The expertise of a mCommerce app development company is vital when considering building a product for your business. Here's a brief overview of the impact that mCommerce has on users and app owners.
MCommerce Apps Explained
As it has already proven to be the dominant platform for buying products and services, mCommerce has dramatically reshaped shopper behaviour and trends. With 6.378 billion smartphone users globally, it stands to reason that mCommerce apps will continue being the preferred means of online shopping in the coming years.
Popular social channels already include "buy now" buttons, creating a shortcut that encourages consumers to make convenient and quick purchases while browsing social media platforms. Additionally, a significant number of sellers have opted for the frictionless one-click checkout technique, which has resulted in dramatically higher sales. Thanks to this technique shoppers wouldn't need to re-enter their payment details repeatedly; they'd be able to make purchases without any hassle.
MCommerce apps are being used extensively, particularly among Millennial and Gen Z users. Their purchasing power is significantly high, making them key contributors to higher retail sales. These digital-first consumers carry out most of their daily activities on their smartphones, ensuring that they'd boost sales volume with their online shopping habits.
Some years ago, building a dedicated app and shifting to mobile-centric solutions would only have been expected of well-established big name businesses, yet with smartphones becoming increasingly affordable, a large number of organisations are taking advantage of this technology.
With that said, you can learn the perks of building an app with the help of a leading mCommerce app development company, no matter the size of your company.
What Do Mcommerce Apps Bring To Users And App Owners?
Range of payment alternatives
In an effort to revolutionise the shoppers' journey and simplify the processes, mCommerce apps are equipped with popular payment alternatives that users can choose from.
Whether its bill payments or online shopping, users only have to enter their details once and carry out quick and easy transactions. Users get one-click checkout experience, prompting them to make repeated purchases.
Superior customer journey
Ecommerce has already taken the retail world by storm, revolutionising the way consumers shop. Shoppers are able to browse through a wide range of products and services on their home computer, picking and choosing according to their specific needs without leaving their home.
 To top this, mCommerce allows consumers to do all this without needing to sit at a computer; all they need is their handy smartphone to shop wherever and whenever they want.
Proximity or location-based marketing
The increased smartphone and by extension app usage has enabled retailers to engage with potential shoppers round-the-clock. Proximity marketing, based on prospective customers' location is a lucrative strategy that businesses can exploit.
This tactic involves sharing personalised and targeted advertisements or notifications based on a user's location or proximity to a physical store, prompting them to make a quick purchase decision. For instance, when a jogger with a smartphone passes your store they would get a notification offering them 40% off on sneakers.  The personalised aspect of these messages serves to drive sales and profits.
Would you like to raise sales and revenue with help from a mCommerce app development company?
Extensive scope for growth
Even though mCommerce already has a substantial market, there's no indication that the industry growth will slow down.
By 2024, the volume of mCommerce is predicted to cross $ 620.97 billion. By means of smartphones and tablets, it has become the shopper's preferred mode of buying products and services in the online space. This is not a passing trend but one that's here to stay.  
Omnichannel approach
By taking advantage of multiple channels across online and in-store options, omnichannel shopping gives users a seamless buying journey. To build customer trust and loyalty, brands would need to share a consistent message spanning all shopping and marketing touchpoints.
Furthermore, what an omnichannel approach does is offer your customers the leeway to shop exactly the way they want to, not limiting them to a particular channel, resulting in a considerable boost in sales.
As a result, smart devices are the perfect means for omnichannel commerce, as you can take for granted that the majority of your prospects are glued to their smartphones throughout the day.                                   
Social media reach
Further than customer reviews and ratings, how businesses convey their sales pitch is a decisive aspect for shoppers purchasing products and services. In today's digital world, a large number of customers rely on the convenience of social media applications to make purchases, particularly from nearby sellers and local stores. They get a frictionless shopping experience without having to exit the social media app.
Mobile app analytics
It is extremely vital for retailers to exploit the extensive volumes of data and structure future plans based on the insights gleaned. When it comes to mCommerce apps, retailers should employ mobile app analytics all through the app development cycle so as to allow targeted marketing and robust promotion and pricing strategies. What's more, an in-depth understanding of the mCommerce app market trends could be profitable for businesses. 
Now that you have an idea of what you can expect, take advantage of a feature-rich app from a leading mCommerce app development company and benefit from higher than ever sales and revenue.