Understanding Why An Effective Digital Wallet Solution Is Essential For Business
September 27, 2022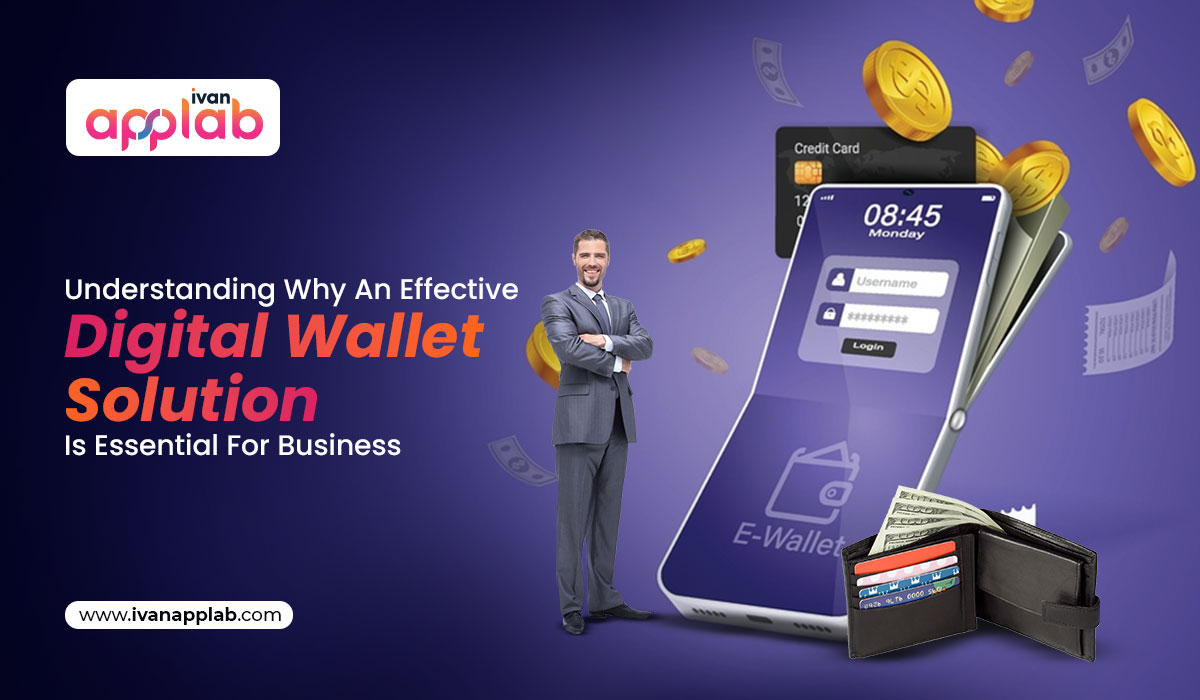 Do you want to build a digital wallet solely for your business? 
Are you not sure about what strategies to employ in order to get an effective digital wallet solution for your business? 
In the present era, where everything is digital, right from education to the health system, finance is also not lagging. In fact, for the last few years, with the continuous technological advancements and high usage of smartphones in every part of the world, along with the seamless internet connection and mobile banking, digital payment and transactions are gaining popularity. People have started using advanced transaction processes such as credit cards and e-wallets and as a result, the businesses operating in the finance sectors, e-commerce, event ticketing, and others are investing in the finance mobile app development companies. The sudden rise in demand for digital wallets has been contributing to innovations in digital wallets and financial management applications. E-wallets enable tech-savvy consumers to experience smooth transactions in a controlled and secure manner. 
So, you must be aware that the future of digital banking is the digital wallet, and opting for one is indeed a realistic and discerning decision as e-wallets tend to be beneficial for both the consumers and the business. One of the best and alluring features that make digital payment to be so widely popular at the present is that it offers an array of discounts and cashback offers along with its capability of keeping track of every transaction. 
But, if you are having thoughts about launching your digital payment wallet, then it is indeed a great way to enhance your business. However, you have to put in a lot of effort and strategies in order to get an effective digital wallet. So, the best way to be stress-free is to hand over the responsibility to a finance mobile app development company.
Market Overview of E-Wallet by Finance Mobile App Development Company 
So, before you opt for strategies to develop a digital wallet for your business, let's take a dive through the market overview of e-wallets at the present.
The driving force of digital wallets is the global pandemic of covid-19 that created a huge impact. The entire world turned to cashless payment solutions due to the havoc created by the pandemic in 2020 and hence, that is how the popularity of the digital wallet or e-wallets started expanding among the people. While 2019 witnessed the value of the digital wallet business at 1,043.1 billion dollar, the amount was expected to grow by 28.2% from the year 2020 to 2027. Therefore, the market is expected to grow at a rapid pace in the coming years thereby making the e-wallet sector to be a fastest growing sector.
As per the statistics about the fast growth of e-wallets is that by the end of 2024, almost half of the e-commerce payments would be enabled by digital wallets. With the rising demand for e-wallets, finance mobile app development companies are improving wallet features with technological innovations, and digital payments are getting more secure.
What are the Right Strategies For Digital Wallet Development?
So, since you are wondering what strategies you might follow to enable effective digital wallet development for your business, here is a list of various strategies that you might undertake. 
The first and foremost strategy while enabling an e-wallet development by any finance mobile app development company is to go for in-depth market research and analysis. While researching, make sure to finalize the industry you want to work for, know your target audience properly, and the type of e-wallet you want. Additionally, be well decided about the incorporated features and functionalities. The market analysis will enable you to understand what makes your business unique from your competitors.
While trying to develop a digital wallet, decide on the type of wallet you want to build for your audience.  You can find three different digital wallets that are different from each other based on their payment methods. Here are the 3 main wallet types from which you can choose for your business:
These kinds of wallets are operated directly by the bank or any other third party for any kind of transaction. This allows the users of the open-loop wallets to use the funds from the available mobile wallet for making any payment.
Closed wallets are those kinds of digital wallets that are developed by a company that enables its consumers to buy goods and services from that specific company.
These wallets are used for both online and offline transactions. However, to use this kind of wallet, you or any business owner needs to sign an agreement policy with the issuers.
Ensure Customer-centric App Development
While hiring a finance mobile app development company for an e-wallet development, the chief motive is to serve the customers and the users appropriately. It should be able to provide the users with the desired information based on their needs. In order to make it customer-centric, you can easily include various engaging options for the users to attract them through the different offers, discounts, and promotions.
Prioritize the Key Features
As you know, one of the most essential things to include while building digital wallets is the key features that help the users to get the best and most seamless digital wallet experience. So, make sure to research and understand the various important and unimportant features and incorporate them accordingly. Some of the essential features that you can include in your e-wallet are biometric payments, top-up, and utility payments, loyalty, and rewards along with bulk and split payments.
Following the right strategy is extremely important while trying to build an e-wallet for your business. However, partnering with the right finance mobile app development company is equally important as you are dependent on it for your digital wallet development. Research and analyze before you make your final decision of what type of wallet you want and turn your idea into reality.