A Glance At The Technology Trends Revolutionizing The Fintech Realm
August 6, 2021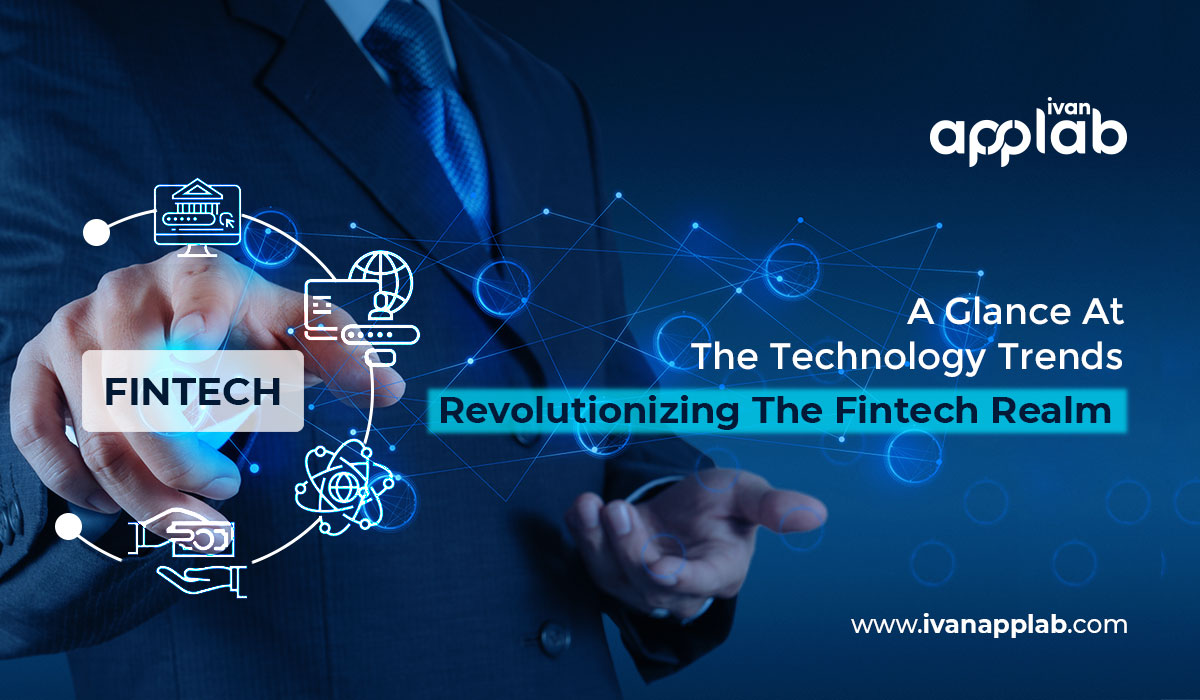 Fintech is continuing to transform the landscape of the financial industry together with its services and utilization. It has also impacted customers' expectations and established higher standards for user experience. Fintech offers flexibility and dexterity to create innovative financial apps that empower users to manage their finances in a seamless and effortless manner. The drastic rise in the adoption of mobile applications has made it crucial for finance companies to build apps that deliver their services to this popular platform where most of their customers are. The primary reason they opt for financial services app development is to meet the current demands of tech-savvy users.
Get familiar with the fintech trends of 2021 and harness these trends to ensure superior performance and customer experience for your business with the help of a finance app development company.
Innovations in payments
Due to the pandemic, people want to avoid using cash or card machines as they don't want to come into physical contact with public ATMs and EPOS systems. Currently, financial services app development offers new ways are being used to make payments through smartphone apps, by waving a physical card over a reader or using services enabled by NFC or RFID technologies. In many places lockdowns have eased and customers are visiting physical stores. Customers look for stores with contactless payments options, including peer-to-peer, NFC payments and QR codes.
Robotics facilitating operations & customer service
Robotic Process Automation (RPA) involves the use of innovative tools and solutions to implement high-volume, rule-based, and recurring tasks. It draws on AI and ML to bring in automation across a range of tasks, such as regulatory compliance, identity verification and fraud detection & AML. In terms of client servicing, Robo advisors are being leveraged during financial services app development to increase the customer experience among customer-facing departments.
Voice Technologies
Among the top trends in the finance realm is voice technology. Several businesses have begun to adopt voice-enabled technologies like Alexa, Google Assistant, or Siri to enable customers to carry out transactions and other financial processes. This hands-free tech offered by any finance app development company will help to accelerate everyday banking tasks, whether it is logging in and activating cards to bill payments or executing transfers. 
Mobile-only banks
There is a growing rise of banks that do not have brick-and-mortar locations and can solely be accessed through smartphones. Businesses like this provide P2P transfers, contactless credit cards (minus the transaction fees), global payments and more. It works in favour of users who are tech-savvy and comfortable to manage their finances from the convenience of their homes, avoiding the pointless bureaucracy and endless queues.
Blockchain technology
Blockchain is an innovation that brings a lot to the table for the financial sector. Thanks to its hash algorithm users are enabled secure data sharing through blockchain apps and other solutions. This technology not only ensures highly secure transactions and payments but also removes the unnecessary middlemen, which ultimately decreases costs significantly. You can also benefit from smart payments, fraud prevention, trading processes automation and so on.
Doubtless, the past couple of years have been both turbulent and game-changing for the financial industry. The ongoing pandemic and the resultant global economic instability are primarily responsible for most of the new trends that have cropped up. Armed with insights on fintech trends financial companies will have the ability to invest in disruptive technology and innovation through financial services app development services. 
Get vital insights and find out how we can help your finance business to develop and speed up innovative practices and propel business growth.