How Artificial Intelligence is Elevating Different Aspects of Entertainment Apps
September 22, 2022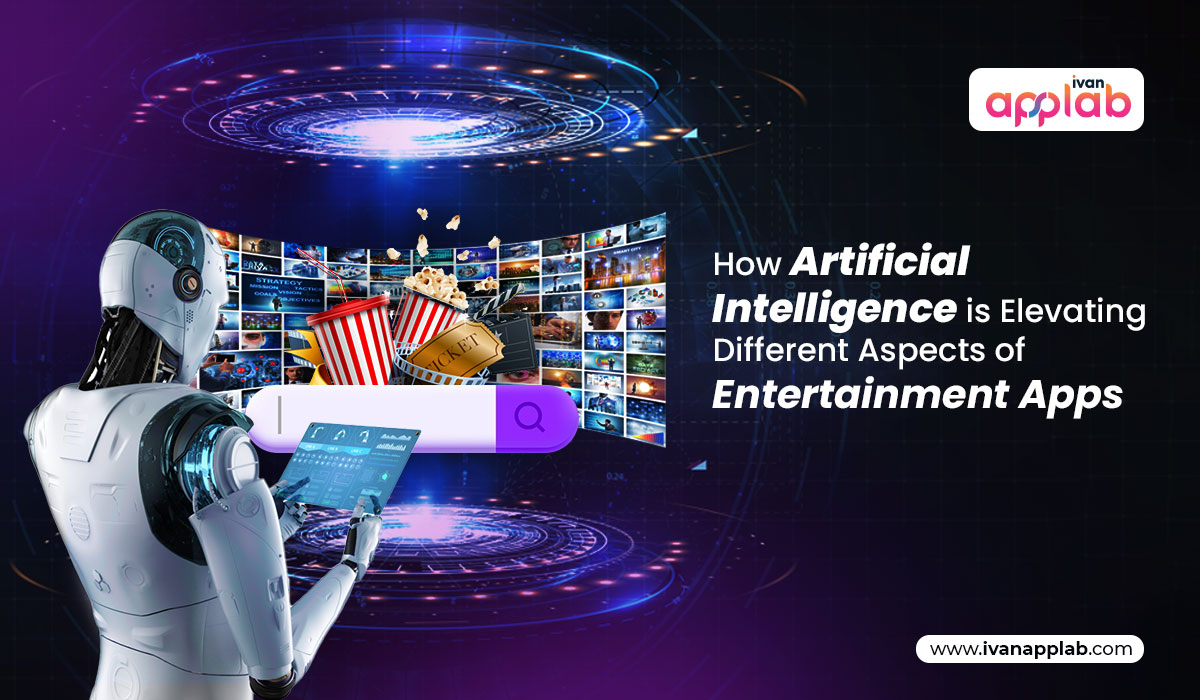 Gone are the days when smartphones were used for just making calls. These days it is a source of information, an essential tool, basically it is an object without which most of us cannot live our lives comfortably and efficiently. Within our phones reside a range of apps that serve to resolve our day-to-day issues from travel and food to entertainment.
Virtual reality, Augmented Reality AI and IoT are some of the disruptive technologies that are being used when you opt for entertainment app development services to offer you an intuitive solution. Looking at what these advanced innovations can bring to the audience now it's interesting to imagine how cutthroat the competition is going to be for coming generations.
Let's go through the different aspects of entertainment app and how AI is elevating each aspect.
Superior User Experience           
As there is fierce competition in the media and entertainment industry, it's always a challenge to keep the attention of consumers for an extended amount of time. After capturing and analyzing huge volumes of data from users, an AI can reliably foretell human digital actions, which serves to forge deeper Human-AI connections. UX professionals take advantage of the insights from these connections to enhance the user experience, all through the app development cycle.
Personalization
Top entertainment and streaming platforms have found success because their content offerings cater to individuals from a range of demographics, with various preferences and tastes.
When you go for entertainment app development services you can benefit from AI-based solutions that significantly elevate consumer experience. AI is able to capture user data and enable your entertainment app to display personalized content recommendations, customized to the preferences of each consumer. This happens because AI models are to learn every user's viewing behavior and content preferences.
Entertainment app owners have recognised the benefits of leveraging AI for media production. Through this they see patterns, for instance consumers who have watch or engaged with 'A' are highly likely to watch/engage with a subsequent piece of content in the franchise i.e. 'B'. Entertainment apps leverage user history of other interests that correlates particular user tastes and suggests appropriate content to keep on and maintain a connection with subscribers.
Search optimisation
Search features in media and entertainment apps are often rather challenging to maneuver. AI offers a tremendous opportunity to elevate its capacity. There are certain solutions that have even begun offering the feature to search by image uploads or voice search, ensuring that the search for content remains friction-free and convenient for your users to search for entertainment fare on your app.
Thumbnail automation
Video streaming apps benefit greatly from the use of AI.  Showing thumbnails that perfectly and alluringly represent content is an excellent marketing tool to pull users in. Without the ideal thumbnail content to become less prominent on entertainment apps, leading to lower engagement and revenue. AI is able to sample each and every frame of a video, using a quality model and quality score. Then the frames with top scores are chosen, edited and used as thumbnails.
Content moderation
AI can carry out sentiment recognition objects and image analysis of entertainment app offerings to detect sensitive material. Additionally, AI technology is also able to leverage NLP to identify explicit language in content. It allows entertainment app owners to moderate content on their platform and put appropriate ratings for them.
Content classification and categorization
Entertainment apps accommodate a large number of TV shows, movies, games and songs. With streamlined search algorithms, these apps enable users to locate the content that they prefer. AI makes a big difference in this task. The technology serves to scan data and objects in each content piece and then proceeds to divide it into various categories. Frame-by-frame analysis of videos is possible using AI-powered tools, allowing them to assign suitable tags. Because of this, no matter the volume, all the content you upload to your app is rendered easy to find.
Subtitle generation
International media and entertainment companies need to ensure that their content can be consumed by users from all over the world. For this reason, they need to offer correct and well-positioned subtitles in several languages in their entertainment apps. Manually written subtitles for scores of content pieces in several languages would require a substantial amount of time and effort. Additionally, there is no guarantee that resources working on the subtitles will carry out accurate and error-free translations.
This can be remedied when you use AI-powered technologies such as NLP to automate subtitles for content on entertainment apps.
Reporting
On top of bringing automation to everyday operations, AI has the capacity to empower media companies to come to insight-based, thanks to comprehensive reports. 
AI technology powers natural language generation and data analysis reporting capabilities, allowing app owners to generate performance reports using easily understandable analytical commentaries, giving them valuable intelligence that can result in smart data-powered decisions.
The entertainment industry continues to face fierce competition and the demand for superior performance keeps rising with the passing years. Using entertainment app development services you can figure out the ideal way to leverage AI to elevate your entertainment app. Accordingly, you will be able to boost the UX and user engagement on your app.