How To Make Compliant and Secure mHealth Apps
May 16, 2022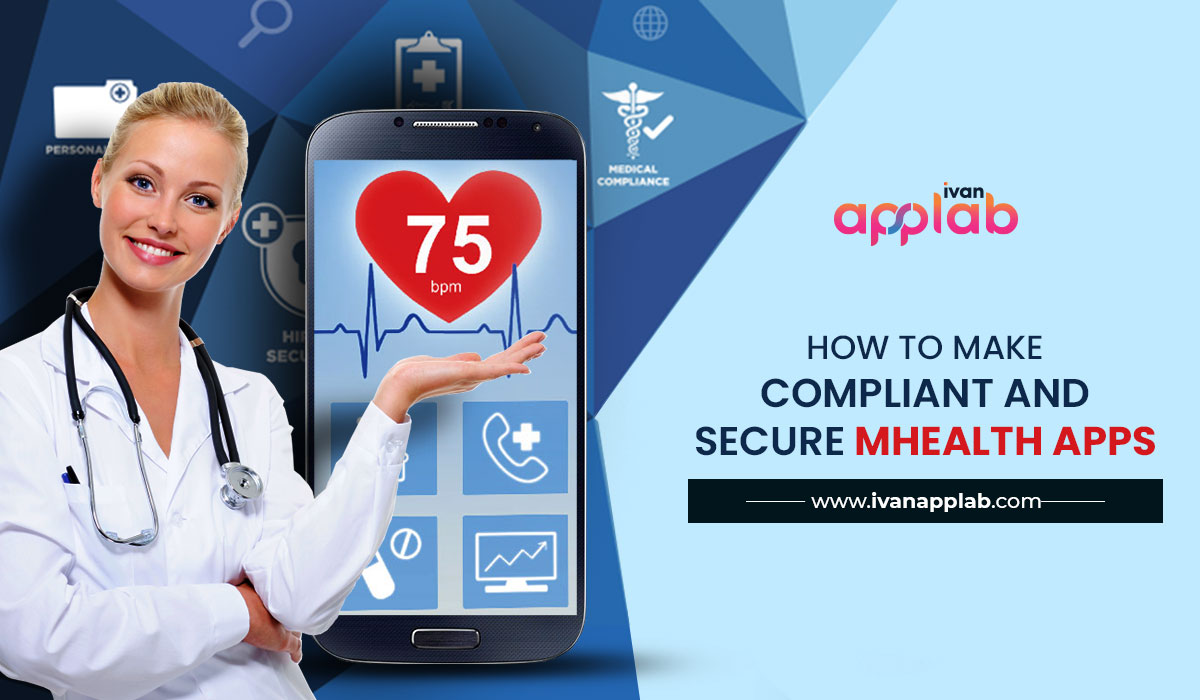 While healthcare apps have been created with the aim of increasing the affordability and accessibility of care, it tends to come along with a bunch of security challenges that need to be addressed during custom mhealth app development.
Almost all healthcare apps collate data on the user's physical activity, habits, physiology and related data. Care providers proceed to use this data for analysis and treatment plans. Without suitable permissions, sharing data on mhealth apps is quite a gamble.
Since it deals with people's personal information, it's obvious that that data captured by mhealth apps is highly sensitive and confidential. This is why it should stay secure, anonymous and bound by access control.
Furthermore, when the malware is installed on a device, it extracts confidential healthcare data, modifies it and palms it off to other illegal parties. Through mhealth app development services your products can be safeguarded against malicious attacks from those who try to profit from its vulnerability.
Compliance in Healthcare Apps
The healthcare sector is being buoyed by a range of technological innovations, but that is not to say it has carte blanche to do as it pleases. During custom mhealth app development healthcare digital products are required to conform to standards and regulations laid down by legal and government entities. There are a range of policies and regulations that control the way in which healthcare institutions manage confidential patient information. These standards are designed to make sure that data is not breached or misappropriated.
Depending on its purpose, mHealth apps may come within particular regulations and laws. Several factors such as the data type being stored and shared, the requirements of your app's functionality and the country/state/region of its usage dictate the standards you will have comply with. For instance, in case your mhealth app has to be used by different staff members and also has to store or transfer patient information, you would need to make sure that it is built in a way that conforms to policy and regulation compliances. You can opt for mhealth app development services to make this happen.
Personal information that requires protection could include data such as-
Patient's details – contact info, appointment dates etc.

Prescription history

Patient medical history

Insurance-related data

Any other confidential data
Let's delve into some of the standard compliance and regulatory acts that you would need to accommodate during custom mhealth app development:
HIPPA
Health Insurance Portability and Accountability Act or HIPPA lays down the standard for the protection of sensitive patient data. Digital products like mhealth apps that capture and share protected data in the US and elsewhere need to adhere to HIPAA compliance as it:
Controls the manner in which data is distributed

Offers security for sensitive patient data

Restricts access to data from all unauthorized parties
HL7
Health Level Seven (HL7) refers to a category of international standards that allow seamless distribution of patient data among different healthcare professionals. For instance, when using EHR apps interoperability among various care providers and data sharing cannot be avoided. Because of HL7 applied during custom mhealth app development, EHR data from multiple systems is seamlessly integrated and accessible in a controlled manner.
GDPR
GDPR stands for General Data Protection Regulation and compared to others, it is a highly stringent regulation on data privacy and security. This standard takes into account a class of regulations for organizations that capture and share user data (EU users) online.  mHealth apps developed for the EU market are required to comply with GDPR regulations.  
Is your healthcare institute looking for custom mhealth app development?