Wearable Technology- The Game-Changer You Seek
July 12, 2022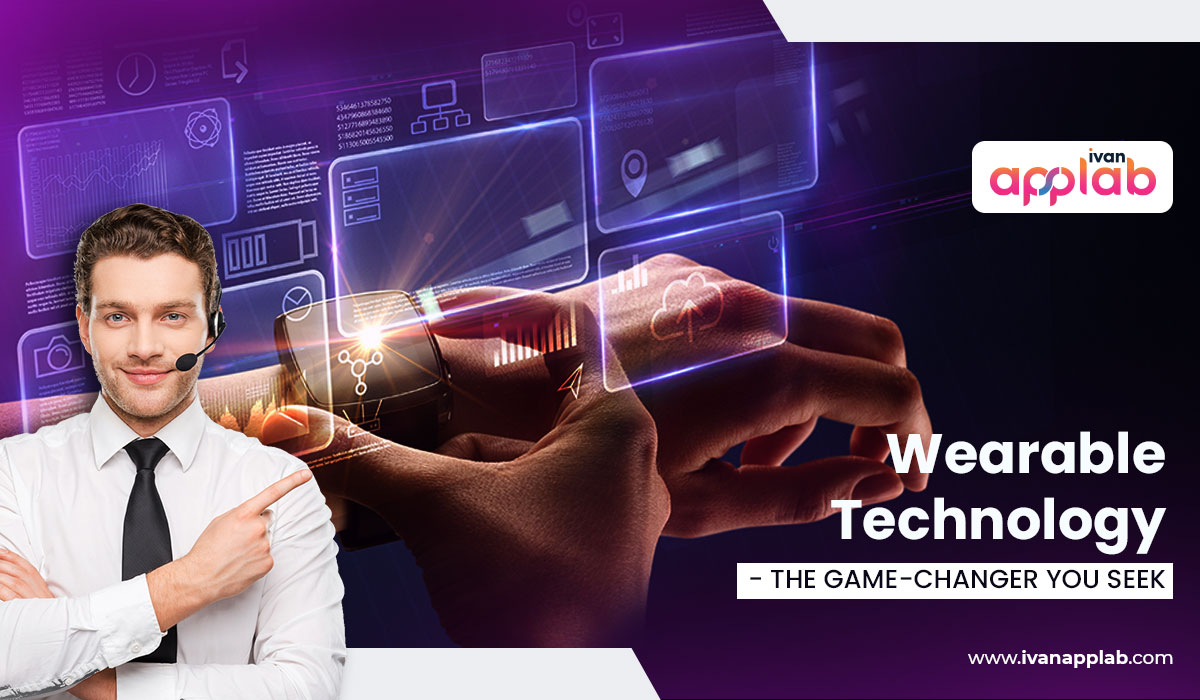 From smart glasses, shoes, clothing, rings, earrings, buttons and the rest, wearables have continued to evolve and flourish. The speedy and revolutionary growth of tremendously robust mobile networks is behind the futuristic wearable app development.                                                                      
Predominantly, fitness-based activity monitors turned out to be quite a consumer craze. Soon after, wristwatches were converted into digital screens, with highly powerful and advanced applications that were increasingly introduced. Nevertheless, wearables are not restricted to just consumers. Its potential has reached the realm of business and industry as well. Wearable technology serves to strengthen safety while raising the connectivity and performance of employees in the field by offering real-time data, knowledge and access in a convenient location. This is why many businesses are working with wearable app development companies to get a share of this lucrative pie.           
Pushing the limits of IoT, the current wearable tech on the market is being used in diverse are and its adoption keeps growing as the innovation keeps advancing. The future potential of wearable devices will continue to reimagine the way people live.  On a global scale the wearables market is predicted to grow to approximately 302.3 million units in the year 2023.
Functionality Of Wearable Technology
Sophisticated wearables available through wearable app development include a wide array of usability, together with fitness monitors, VR headsets, Bluetooth headsets, smartwatches, smart jewellery among others. These devices function in different ways, in accordance to the group they come under, for instance gaming, entertainment, health etc. For the most part, wearable devices work by integrating internet connectivity, batteries and microprocessors thus allowing the captured information to be synchronised to other electronics, like computers and mobile devices.
Wearable devices are implanted with in-built detectors that monitor the user's physical movements, share biometric recognition or enable location tracking. In fact, activity trackers or smartwatches are the categories of wearables that are extremely common among users. They include a band that encircles the user's wrist to track their bodily activities or vitals on a continuous basis. Being hands free and portable they offer a level of convenience that users today demand.
Typically users either wear wearables on their body or they are embedded within the users' clothing, yet a lot of these devices work independent of bodily contact to the user. Smart devices, smart tags and computers are able to monitor user position and motion. Other devices use accelerometers and smart sensors to monitor the speed of movement and some use heart rate sensors for measuring pulse waves or glucose levels. What's universal among these devices is that during wearable app development they are all configured to track information in real time.
Wearable Technology And Its Applications
Driving Productivity
In this digital-first era, a top dominant application of wearable technology across the globe has been to boost performance and productivity in the workplace. Forward looking businesses have already opted for wearable app development to build wearable tech the makes the lives of their employees much more streamlined.           
This technology is being leveraged to enable company heads to carry out data comparisons. This information is then analysed against specific KPIs, goals, quotas, metrics and so on, leading to the capture of insightful and valuable learnings.
The captured information offers businesses the ability to evaluate their methodologies, offer employees an open and efficient system to work within and discover everything that can be done to boost work productivity. 
Weight and Diet Management                            
Obesity has become a severe health crisis worldwide. The condition leads to a risk of colon cancer, liver disease, type 2 diabetes and other issues. For this reason advanced wearables are equipped to calculate calorie intake and provide round-the-clock user data, allowing health experts to deliver highly customised and valuable solutions for diet and weight management. The growing demand for these devices has prompted many companies to opt for wearable app development.
These wearables offer measurable progress track calorie burn, recovery, and calorie intake, real-time feedback to enforce consistency, customised weight management programs and encouragement and motivation. In this way, diet management wearables are devices that serve to continuously collect health data, offer personalised care and improve the quality of life and longevity of affected users.
Health Tracking
Many use wearable devices to monitor and get notified on vital readings, like blood pressure, heart rate and check the steps they take or track their training sessions. In fact, the ongoing pandemic saw a considerable rise in the usage rate of wearable devices, as people were opened up to a wider awareness of health related precautions and personal hygiene to stop the virus from spreading. These devices are equipped to capture the users' personal health such as vitals, physical activity, diet tracking and exercise information etc. It works as a terrific platform, allowing users to set short-term and long-term health goals and track their progress toward them. During wearable app development providers ensure that this data can be routed to users' healthcare providers and insurers.
Gaming and Entertainment
In the realm of entertainment and gaming there has been early adoption of smart devices, VR technology and more. Smart devices support HD gaming and virtual 3D movies experience.  Entertainment wearable devices offer smooth access to games and entertainment and virtual travel on wearable screens. Some devices leverage VR technology to offer real-time video streaming, music and video gaming simulations for users.
So it's quite clear that from personalised diet management to optimised workplace productivity, wearable devices and bringing in a transformation to work and personal life.  You can opt for wearable app development and get sought-after wearables that work flawlessly.