A Comprehensive Guide to Develop a Successful Event Application
August 11, 2022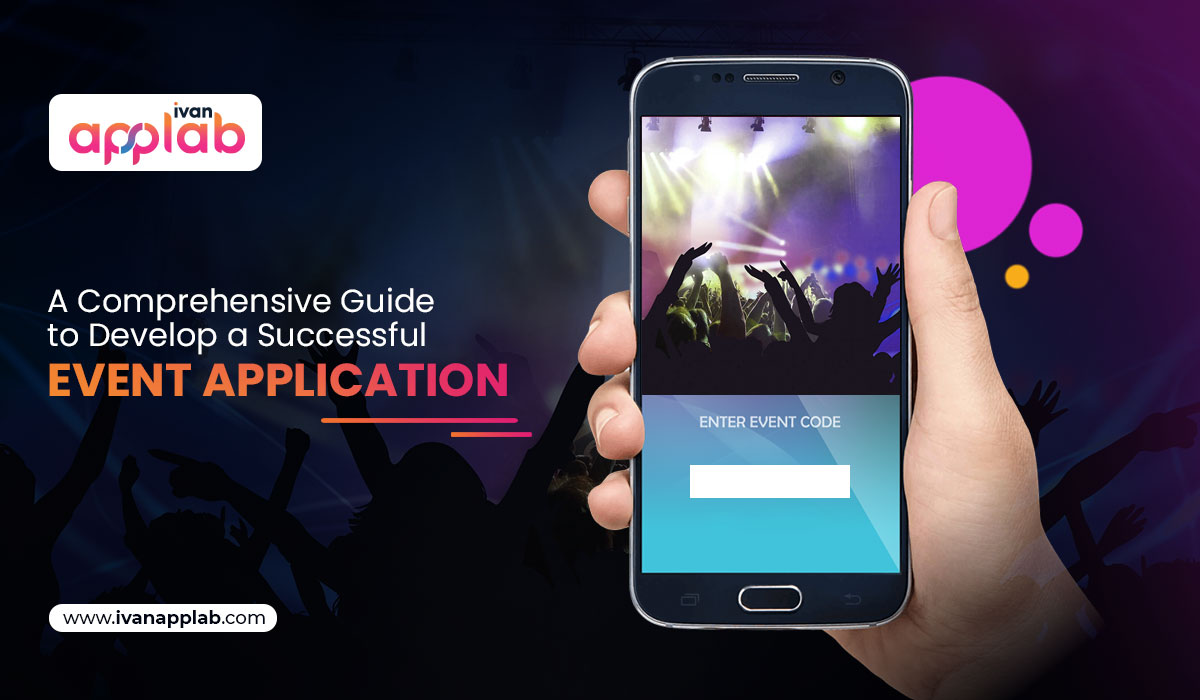 Apps for mobile events and conferences are becoming an essential part of the event experience, and they're becoming increasingly popular. 
With an event app developed by an esteemed event app development company, guests are able to meet new people, stay updated on the event's progress, and derive insights from a large and diverse dataset. It's no surprise that 91 percent of event organizers said that using a conference app resulted in a great return on investment for their event.
Though mobile event applications are widely used in the business, organizers must keep up to speed with the latest technology and best practices in order to keep up with the always-evolving world of mobile apps.
Organizers will learn everything they need to know about the event app in this guide. Attendees will learn how to use event apps in the most effective way possible to achieve event success. A step-by-step approach to assist you to maintain track of mobile event and conference apps has been put together:
Defining Mobile Event App
In the context of a physical event, a mobile event app is software that is downloaded from an app store and installed on a mobile device such as a smartphone, tablet, or smartwatch, with the goal of providing current information, enabling interaction, and increasing participation for all parties involved.
In the early days, an event app developed by event app development companies was essentially a digital agenda. It's a lot more than it used to be. Attendees, presenters, sponsors, and exhibitors, as well as your team members and sales reps, will all benefit from having access to this information.
For example, a mobile app can have social networking and advertising elements as well as audience reaction and polling capabilities. Incorporating the greatest features and functionality of mobile devices with unique touch points, interaction abilities, and data gathering opportunities enhances the value of even a small meeting for all the attendees.
Reasons behind the Buzz around Event Apps 
Marketers admit that they have no idea what they're doing when they shell out as much as 24 percent of their marketing budget on events. Measures like cost per thousand views (CPL), cost per click (CPC), and cost per acquisition (CPA) are all closely monitored during an internet advertising campaign. How is an online event different from an offline one? Consult an event app development company and utilize an event app to keep track of your event's ROI so that you can use that data to benchmark future events and improve ROI with each one.
You, your presenters, and sponsors can better track how attendees use the information they're given by having an app in their hands during the conference. It merely offers unparalleled data collection instruments, especially in the digital world.
Attendees simply expect a mobile app for the event, and they expect it to be feature-rich. To do this, they'll need to communicate with others, share their thoughts, and download materials to keep in touch with presenters throughout the conference. It's reasonable to assume that attendees will expect the app to function properly on all of their devices, on their desktops in advance of the event, and to be routinely and seamlessly updated. This is your event's legacy, so make it count.
How to Leverage Event App for Your Business
Event apps integrated with advanced technologies by well-known event app development companies can upgrade your event to the next level. Here is how the app can help you with the process. 
Power-up Physical Events with Mobile Apps
If you're planning a hybrid or physical event, mobile apps still have a place in your marketing strategy. Your app can be used to register all of your guests. You'll be able to maintain tabs on them and make sure they're up to date this way. Even a virtual picture booth can be used as a fun engagement and gamification activity.
Include Mobile App Check-In
You can easily track the data of the attendees with mobile app check-ins if you get the app developed by an event app development company. Whenever people register for the event you are organizing online, the system will generate a unique QR code. You can use the QR code scanner at the entrance of the event to keep a track of who is attending your event. Collect useful visitors' data with the system. 
Leaderboard Contests
You can gamify the event interactions with the integration of a leaderboard. You can incorporate the checklist in the leaderboard contest for increasing the engagements – both physical and virtual. Let the users go through the checklist and get attendants and representatives to validate their milestones for earning points. 
Incorporate Virtual Photo Booth
You may get mobile event software from an event app development company to conduct a virtual photo booth and collect selfies from guests. Virtual and real-world participants alike can benefit from this. A prize may be awarded to the image with the most votes once everyone has had a chance to vote. This will encourage attendees to interact both in person and online throughout your event.
Enable Social Media Sharing
Add social media buttons to your event and conference mobile apps to allow attendees to share their experiences. Visitors can then use social media to spread the word about the event, whether they're there in person or online. You won't have to put in any further effort to get the word out. To maximize your event's reach and marketing potential from an event app development company, have attendees take photos or videos during the live portions of the event and post them on social media.
Enable Contact Sharing
A mobile event app allows attendees and exhibitors to exchange contact information. QR codes, chat rooms, and other in-app choices make this possible. Scannable codes will be available for guests to view their own and one another's profiles and contact information throughout the event.
Make sure to consult a professional event app development company to develop a powerful application that can help your event to reach the zenith of success. Ivan Infotech is a competent software development company with a team of professionals who can help you manage your event in the best possible way. Connect with us now.