DeFi – A Guide to the New Star That Can Change the Finance Sector
July 22, 2022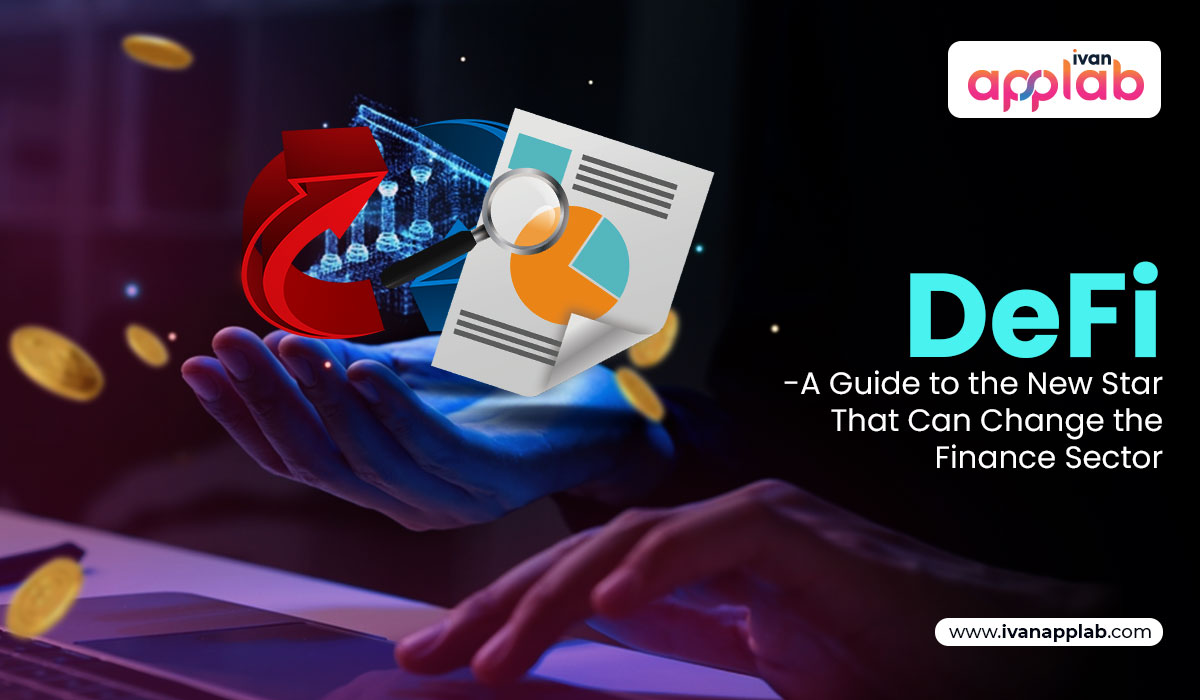 Technology has made it possible for us to have nearly everything at our fingertips. The financial sector has not been left out of the digital revolution. For the sake of efficiency, the banking business has also moved into the digital realm to make use of the latest technology. Since DeFi apps have been introduced.
Managing finances in a decentralized manner are now possible, thanks to modern technology. You can use a wide range of financial services without the assistance of intermediaries thanks to decentralized finance apps. Consult a reputed finance mobile app development company for all the assistance you need. 
Brief on Decentralized Finance (DeFi)
Financial applications developed on blockchain networks are referred to as decentralized finance.
Open-source, permissionless, and transparent financial services from an esteemed finance mobile app development company are some of the key goals of the DeFi movement. One that may be accessed by anybody and is decentralized. By using decentralized, peer-to-peer (P2P) programs, consumers would retain total control over their assets (DApps).
The primary advantage of DeFi is that it makes financial services more readily available to those who might not otherwise have access to them. The modular foundation that DeFi is built on, with DeFi applications on public blockchains that are interoperable, is another advantage. New financial markets, products, and services could be created by this.
How DeFi works
The lending protocols Aave, Maker, and Compound are among the most common. These are technologies that allow you to borrow big sums of cryptocurrency in a single transaction if you can prove that you can pay it back. In addition to earning money, lending out cryptocurrency can earn you some as well.
If you're interested in trading Ethereum-based tokens or earning money by adding liquidity to a market, check out Uniswap. Tokenized equities, like those from Synthetix, and Maker's decentralized stable coin, DAI, are examples of synthetic assets that the protocol uses to establish their worth. Additionally, non-custodial services like those that convert Bitcoin to Ethereum and/or provide decentralized pricing oracles allow synthetic assets to be correctly correlated to their non-synthetic counterparts.
The fact that these protocols are decentralized and non-custodial is what gives them the DeFi moniker.
The term "non-custodial" refers to the fact that the teams involved do not hold your crypto assets on your behalf. It's far easier to govern your bitcoin with DeFi protocols than, for instance, putting it in a bank or lending it out to a crypto loans company (like Cred).
Because these protocols are decentralized, the finance mobile app development companies of these smart contracts have devolved control over their contracts to the community, in accordance with the hacker ethic, so that users can vote on the network's future.
For all its noble intentions, the space has been known to fall short. DeFi's smart contracts demonstrate that even the largest protocols are vulnerable to manipulation or that the contracts are held by powerful teams.
Some dealers, on the other hand, make a fortune from it. As a result of yield farming, many of these lending protocols offer interest rates that are so high that lenders are rewarded with even more tokens.
It is possible to trade these so-called governance tokens, which may also be used to vote on ideas to upgrade the network, resulting in yearly percentage yields of up to 1,000 percent.
Process of Using a DeFi app
DeFi apps can enable you to perform several tasks; though the key objective of the same is to streamline the financial operations without using the conventional financial systems. For your ease of understanding, here are some steps on how you can use the app in the right way. 
Data analysis:

The DeFi typically works for Blockchain so access to information and data will be available for the users. As a consequence, analysis of data can be possible with the app. Data analysis is important to finance-related decision-making. 

Insurance:

Collaborating with a

finance mobile app development company

insurance service providers can create DeFi apps. This is also advantageous for the insurance industry. The app can make the process of insurance claims simpler maintaining clarity and authenticity. 

To borrow and lend:

The process of lending and borrowing has become quite easy with the app. The best part of the app it doesn't need any human intervention to operate. Integrated with the latest technologies and smart contracts this assists the users in the best way. It is important for both the lenders and borrowers to abide by the terms and conditions. 

Exchanges:

If you are conducting exchanges between stakeholders, this app can help you a lot. Even, you will not need any intermediaries. Without the hassle of registration or identity verification, the users can exchange products at ease. 

Stablecoins:

There are stable assets in cryptocurrency like gold are called stable coins. Use these stable coins for borrowing and sending through DeFi apps. These coins make blockchain payments more useful and stable. 
Main Benefits of Using DeFi
This type of finance relies on middlemen such as banks, and courts to resolve disputes.
No mediators or arbitrators are required for DeFi applications to work. All disputes are resolved according to a predetermined set of rules, and the users retain full ownership of their funds. Automation minimizes expenses involved with providing and using these products, allowing for a more efficient financial system that is less cumbersome.
Single points of failure are eliminated because these new financial services are built by finance mobile app development companies on top of blockchains. In order to censor a service or shut it down, the data is stored on the blockchain and disseminated across thousands of nodes.
Open ecosystems allow individuals who otherwise would not have access to financial services the ability to do so. Low-income areas are often left out of the traditional financial system, which relies on intermediaries to make a profit. Costs are greatly lowered with DeFi, and a wider choice of financial services is available to those with lower incomes.
Difference between DeFi and Conventional Finance
If you are wondering how DeFi system is different from a conventional system, here are points for you: 
Not regulated:

DeFi is not regulated like conventional financial sectors. The data gets transformed directly. It is not possible to change the information in the blockchain because of the way of storing the information. Unlike conventional finance, it provides seamless data transfer as no paperwork is needed there. 

Unambiguous:

With the help of a centralized system you can make sure that the experience is clear. It is easy to resolve the issues through the app because the app is always monitored. Users can also check the interactions between different accounts as well. 

Accessibility:

Accessibility is not also difficult for the app as using a DeFi, the app can access services 24/7. Just a steady data connection is needed for that. 
If you want to utilize DeFi system in your finance app development, make sure you connect with a finance mobile app development company that can help you with the process. Ivan Applab is a team of app development specialists who understand the latest technologies and implement those in their best practices. You can discuss with them more prospects of DeFi.