The Plethora Of Opportunities That mHealth Apps Can Bring You
February 23, 2022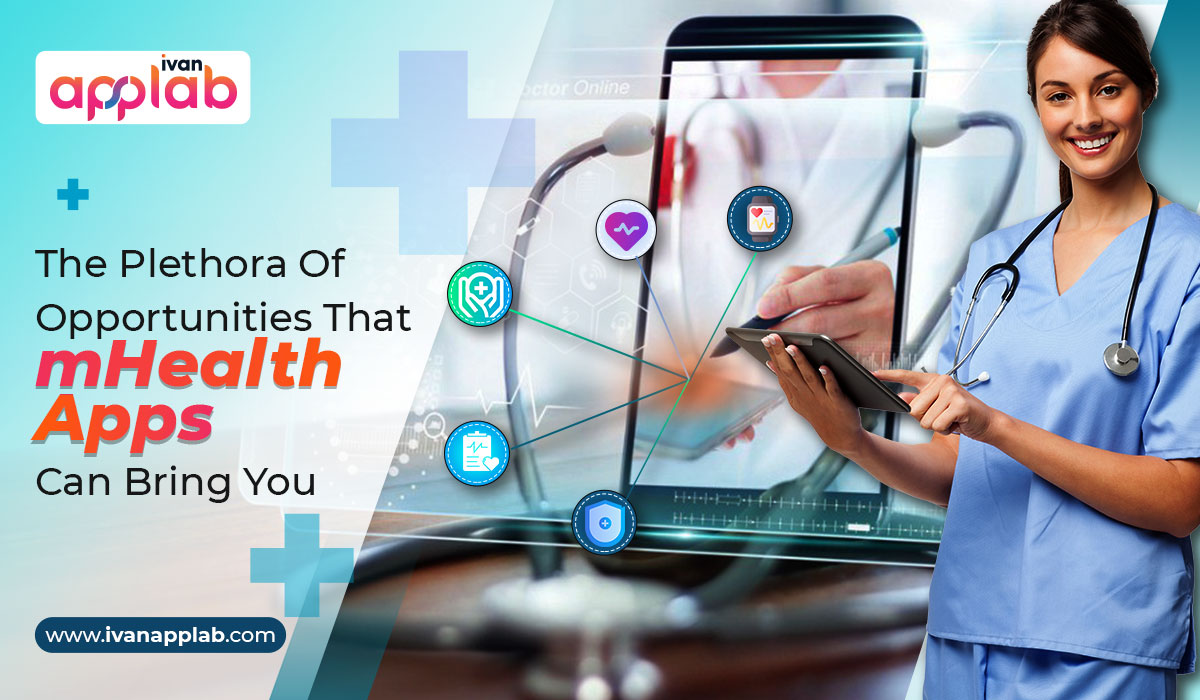 The mHealth app market has been expanding consistently over the last decade, bringing in improved business models, disruptive technologies, and new workflows that are reshaping the healthcare landscape. Everyone involved in the health sector is investing in mhealth app development services for advanced solutions to several key challenges they encounter.
Ever since mHealth apps have entered the scene, they have accelerated the pace and potential of healthcare businesses with proven results in improving patient outcomes and bringing down the costs of care. From remote patient monitoring to rehabilitation programs, symptom checkers, and prescription filling and compliance, mhealth apps come in various types.
Personal health record apps                                                                                    
A major challenge that most patients face is repetitively sharing their medical data, several times over to every new healthcare worker that requires the information. To eliminate this tediousness, if physicians are given accessibility to patient data on a consolidated platform they would be able to deliver efficient, friction-free care.
As a result personal health record apps are getting more and more in-demand. These apps allow patients to store and handle your extensive medical information and history. You get the chance to share pertinent files with healthcare staff to smoothen processes.  With the help of a mhealth app development services provider, you can accomplish all of this by means of your always-on-hand smartphone.
Wellness apps 
Folks today are getting ever more conscious of their health and fitness needs.  For this reason, a high percentage of mHealth related apps are associated with wellness endeavors, for instance, workout, sleep trackers, nutrition, and more. Wellness apps are primarily designed to enable users to keep maintaining a healthy way of life. Through custom mhealth app development, your solutions will involve tailored nutrition plans, step count, training schedules, etc. that users will leverage to monitor and accomplish their health ambitions. A lot of wellness apps are used alongside wearable devices that gather and record the user's data on a centralized system. 
Remote health monitoring apps
Apps for remote health monitoring are leveraged to monitor and handle the health issues of patients who have acute or long-term conditions. This is carried out by means of tech such as apps that work in combination with devices that track a patient's vitals, for instance, blood pressure, oxygen levels, blood glucose among other things.  The great thing about Custom mhealth app development providers is that they offer healthcare professionals apps that are able to track their patients' health issues effectively even though they are not actually present in the healthcare facility.
Telemedicine apps
Approximately 75 % of ER as well as hospital appointments are non-essential and could easily have been handled via messages or phone calls. So, it stands to reason that telemedicine is making a big impact in the sphere of healthcare. Through telemedicine apps, patients can go online to consult their doctors and not have the hassle of being present at their clinic physically.  These apps provide advanced healthcare consultations which are particularly valuable because of their accessibility to patients who are incapable of traveling or living in rural areas. As a result, finding a suitable company to manage mHealth app development is pivotal for any healthcare business.
Doctors and patients alike are taking advantage of mhealth apps, thus bringing in a far-reaching boost to patient care. Seeing as healthcare is available through a patient's smartphone makes it fully accessible and is the primary motive behind why a major percentage of users are exploiting this technology. Professionals struggling with the challenges of the healthcare sector can easily take the help of a reputed mhealth app development service provider to ensure sustained growth and success.