Exploring the Top Trends in mHealth App Development in 2022
January 19, 2022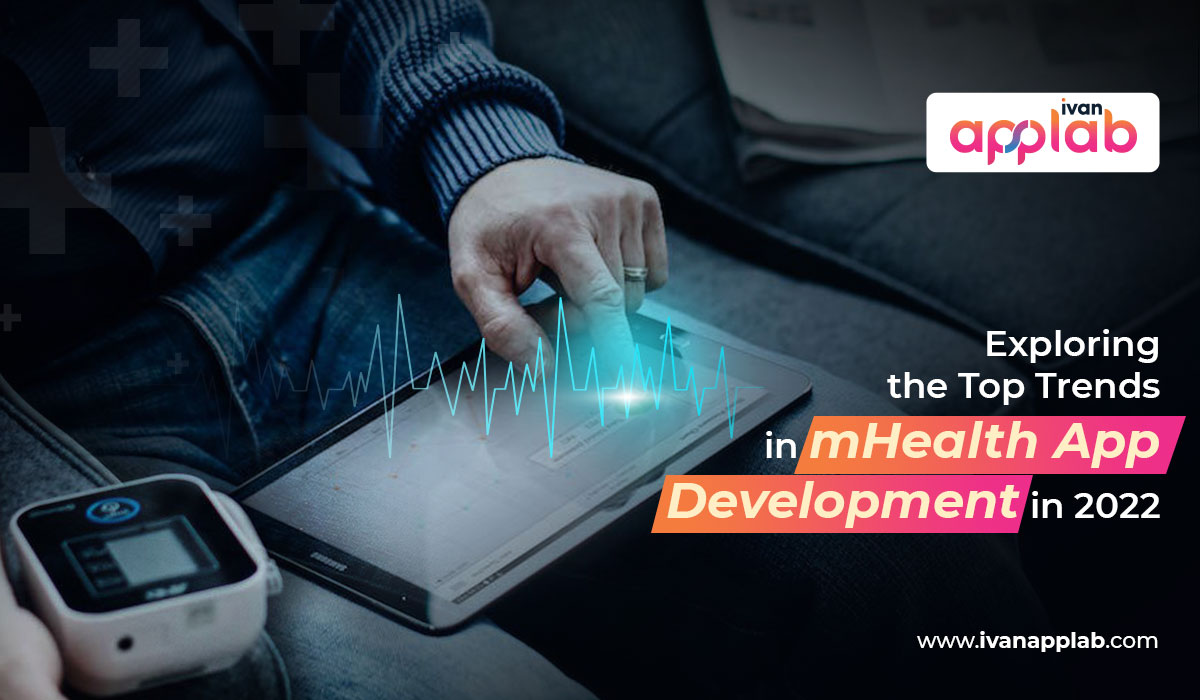 mHealth is poised to keep flourishing, as it has scores and scores of active users on a global scale.  The mHealth market size in 2020 was worth upwards of $45 billion, the ongoing pandemic nevertheless, has activated a radical surge in market size. It's no wonder care facilities are opting for mhealth app development services.
The top-rated healthcare apps are those that are appropriate for the user and resolve an immediate challenge. Here are the major trends in healthcare app development, depending on the specific business you need to adopt the relevant one to remain significant in 2022.
Personal Healthcare Apps
Apps of this sort concentrate on monitoring the personal health status of the patient. Users can check their heartbeat, calorie intake, daily steps, water intake among other parameters. Personal healthcare apps typically link through a wearable device or gadget.
A few healthcare apps for users can monitor their entire activity status and diet. After doing so it can recommend a POA to remain healthy by sticking to a suggested diet and lifestyle habits.
Fitness Solutions
Another trend in the online healthcare scenario is the advancement of fitness applications. Healthcare solutions are equipped with exercise routines. It involves trainer-led and pre-recorded categories by experienced fitness experts.
Users are offered classes on dance, strength training, yoga, among other things. Under mhealth app development services, these apps also concentrate on mental health and offer meditation sessions and other stress-reducing therapies.
Telemedicine
While the pandemic bought telemedicine to the fore, it is currently the in-demand option for both physicians and patients alike. Telemedicine apps allow users and doctors to swap important information on a virtual and convenient platform.
In terms of typical health issues, doctors are consulted in order to gain prescriptions without actually coming to a hospital physically. It cuts back on considerable time, enabling doctors to check on patients in dire need of urgent attention. Telemedicine apps are also in demand because they promote contactless meetings and payments.
Artificial Intelligence
The majority of the top-notch healthcare apps for patients as well as the advanced medical apps for healthcare staff include AI leading to improved results. Machine Learning or ML functionalities, the basis of AI, facilitate the generation of important insights from a patient's health information thanks to custom mhealth app development.
These are also enhancing the diagnosis process for life-threatening diseases at an early stage of life. What's more, AI links healthcare organizations via sophisticated chatbots used to respond to a range of patient queries.
Electronic Health Records
Through blockchain technology, healthcare organizations are able to monitor health records and diminish the incidence of inaccuracies. EHRs are vital to comprehend a patient's history in order to arrive at an ideal treatment plan.
Wearable Gadgets
As mentioned before, wearables are proving valuable for monitoring patient health. Many wearable devices can be hooked up to different healthcare apps to improve patient outcomes.  By means of mhealth app development services you can benefit from an app that carries out real-time monitoring of oxygen, pulse, blood pressure, as well as tension.
Smartwatches are known for possessing these features, and they also have a variety of exercise modes to keep our fitness on track. Devices like this are on the increase and users are becoming more mindful of their health.
Remote Health Tracking
Health apps made for remote care are platforms that concentrate on tracking patient health via on-demand mobile applications.
Many patients' health needs to be tracked in accordance with their program of treatment. As it is impractical for patients to stay at the hospital over long periods, remote health tracking is the best way to keep track of their health while away from a care facility.
Digital health is in focus currently. So, are you on the lookout for mhealth app development services to gain apps that let you communicate seamlessly and lead to better patient outcomes?