6 Types of mHealth Apps That Are Disrupting Healthcare
November 9, 2021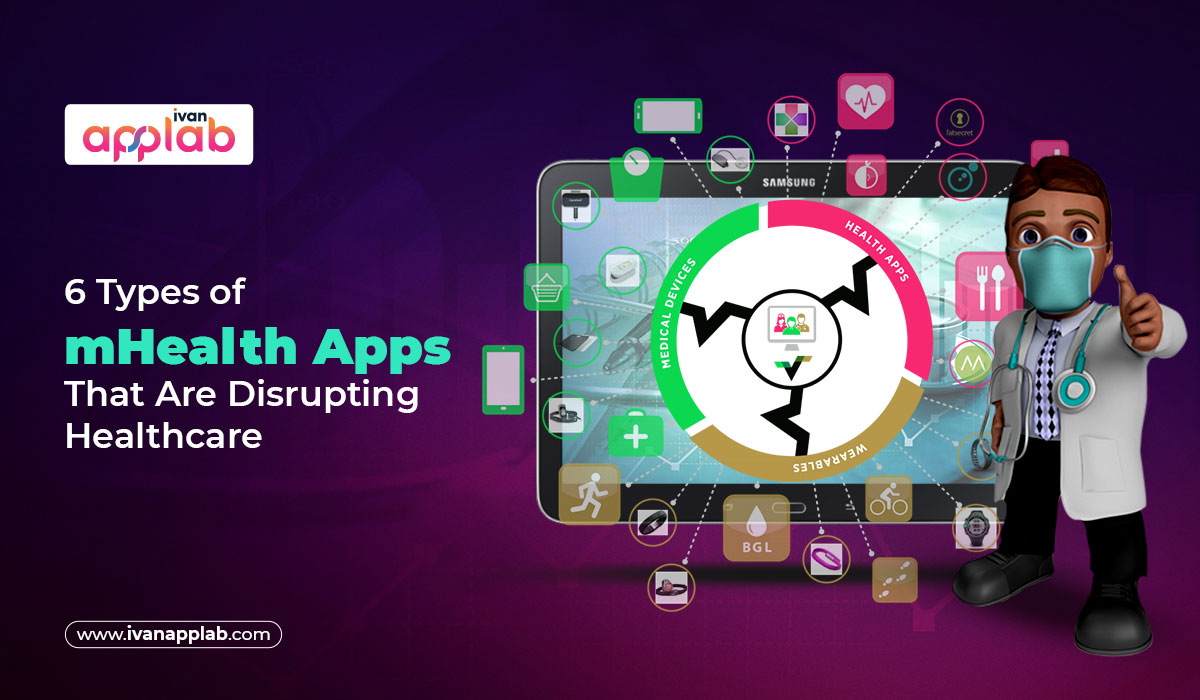 Healthcare as an industry has been drastically impacted since the outbreak of COVID-19. A key change is a shift to the digital space. In part, it is one of the consequences of the pandemic, yet it is also, to a degree, because patients are now tech-savvy and expect quicker smoother medical attention. The major driver of this change in the healthcare industry is mhealth app development service providers that build apps that have transformed the manner in which people engage with services and the industry as a whole.
At present, there are already several mHealth apps for a variety of purposes and several more are set to enter the market in the near future.
Let's discover the top mHealth apps that are reshaping healthcare.
Clinical and Diagnostic Apps
With the help of this type of app, doctors are able to gather patient data, assess and disburse it. apps made for clinical and diagnostic purposes allow healthcare professionals to carry out digital imaging, view electronic health records, examine lab results and so on. It also helps doctors to gauge the patients' symptoms and come up with an insight-based diagnosis for the sickness. Additionally, patients can make appointments according to the convenience via these apps.
Remote Monitoring Apps
Healthcare facilities no longer have to attend to all their patients in person at the hospital. Practitioners use remote monitoring apps to attend to the needs of the patients on a remote basis, wherever the patient may be.  This type of apps allows healthcare workers to monitor heart rate, oxygen level, blood glucose levels, blood pressure and more remotely, without them coming in for a physical appointment.
Using mhealth app development services you can build remote monitoring for your facility.
Mental Health Apps
Mental illnesses such as anxiety and depression are now highly pervasive and doctors have resorted to mhealth apps as a means to facilitate the treatment of their patients. Apps like this can be particularly of use when dealing with young adults and teenagers struggling with mental health problems as a result of their incessant usage of technology for purposes of interaction.
Healthy Lifestyle Apps
Apps of this variety are built with the purpose of catering to healthy lifestyles. It is equipped to track indicators such as diet, heart rate, sleep cycle, exercise routines and more. These apps are particularly advantageous for patients that have been diagnosed with diabetes or heart disease.
Productivity Apps
Productivity applications offered under mhealth app development services serve to enhance the overall efficiency level of healthcare facilities. Apps of this variety are equipped to perform remote dictation, real-time internal business interaction, home healthcare scheduling, mobile charting, data sharing and more. Along with catering to healthcare functions productivity apps also comply with the requisite compliances.
Clinical Reference Apps
Thanks to apps of this category, healthcare professionals do not have to hunt haphazardly for guides and references.  They will be able to locate the data they need from the convenience of their smartphones. They will have online access to ICD-9, ICD-10, E & M coding as well as additional reference data.
Whether it involves receiving a quick diagnosis from a health professional or tracking personal health or optimizing health facility productivity levels mHealth apps are playing a key role. With the technology disruptions being leveraged in healthcare, mHealth apps are becoming more and more advanced.  You need to find the right mhealth app development service provider to build and manage your mHealth app.