5 Key Trends Reinforcing Wearable App Development In 2021
July 22, 2021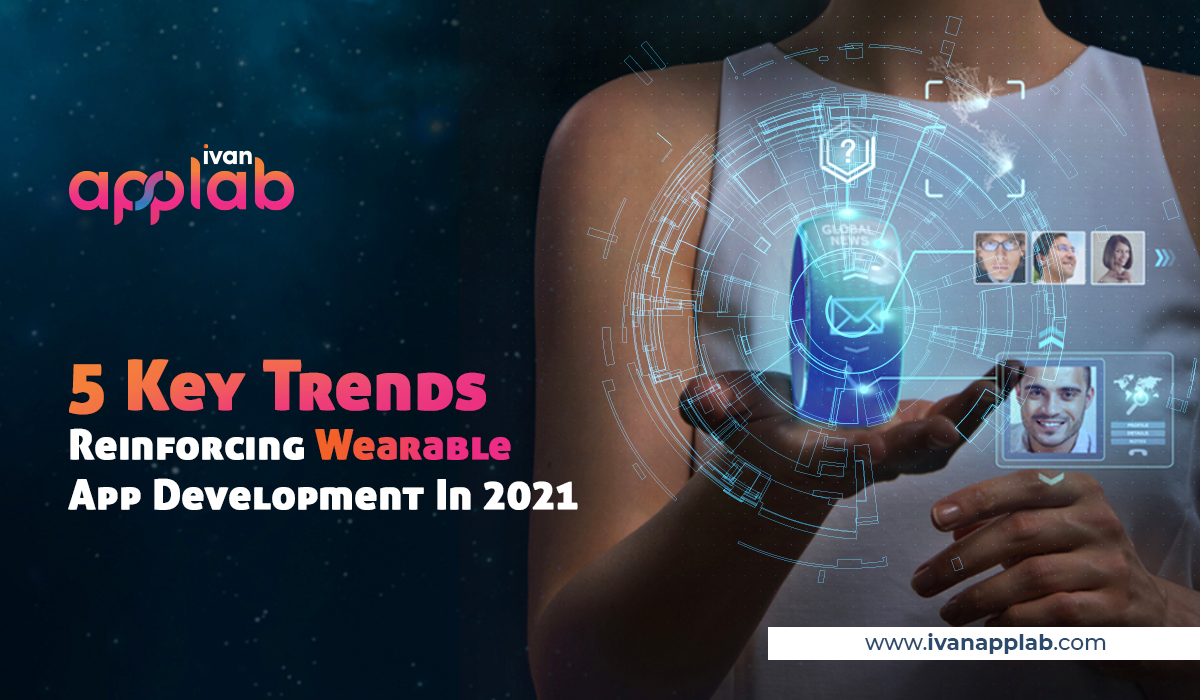 Wearable technology is making a big impact on mobile app development trends and is stretching out its influence over a wide range of industries. This is because of the technology's versatile and optimized nature. With a wearable app development company at the helm, businesses are capitalizing on versatile wearables.
By 2025, wearable app devices are anticipated to climb up to 614.31 million units. So it's clear that after the rise of tablets and smartphones, wearable app development services are growing and a big thing among tech consumers around the world.
In terms of the range of the highly popular wearable devices, you will come across a range of fitness trackers, smart contact lenses, smartwatches, and biosensors getting popular among users who are adapting them to perform their daily activities. Users in today's era consider wearable devices a fashion statement. As a monitoring device, it has excellent recognition, and there is no doubt that it will remain in the market for a long time.
Contactless payments through wearables
The contactless payments marketplace will be worth $18 billion on a global scale by 2025. This is likely to occur due to the social distancing protocols put into place because of the pandemic.
Business usage of smartphones and wearable technology via a wearable app development company is set to be instrumental to this spike. Some private banks are using contactless payment wearables for users on the go. Any wearable app development company will have the capacity to craft wearables from scratch, decked out with e-payment gateways.
Beacon technology
Beacons are wireless transmitters that are equipped to interact with smart devices in the vicinity and swap information to aid with location-based searching. This tech has the capacity to share contextual intelligence with users' smartphones and wearable devices. A key approach to using beacons is to motivate users to make healthier and logical choices on the basis of proximity (for instance, a beacon near an elevator telling you to take the stairs instead and get fitter), and reward users with points via a gamification route.
Smartwatch development
Smartwatches provide a highly convenient experience as opposed to smartphones at a far lower price point. Smartwatches can simultaneously act as a mini-smartphone or a fitness tracker. In the current era of hyper interaction, these devices ensure that you always obtain social media notifications. A wearable app development company can build you smartwatch products that are equipped with batteries that last longer than top range smartphones.
Smart contact lenses
More than merely enhancing a users' vision, smart contact lenses have the capacity to carry out exceptional tasks, for instance, displaying a digital feed in front of the users' eyes and also release medication.  It serves to alleviate health conditions for instance detecting retina damage, identifying allergies and tracking blood sugar and diabetes.
Wearables GPS devices
Currently, GPS wearables devices have garnered enormous popularity among users as they are cost-effective. In particular, with a tracker in place, parents and guardians are able to protect, remotely oversee kids, adolescents and special needs adults. The potential of wearable technology in the future depends on the incorporation of GPS tracking in these devices.
The unparalleled potential of wearable devices has encouraged many top brands to approach a wearable app development company and benefit from this innovation.  So, in case you want to get started with your very own wearable app project, we are here to support your journey.