Top Factors To Consider Before Custom iOS App Development
July 5, 2021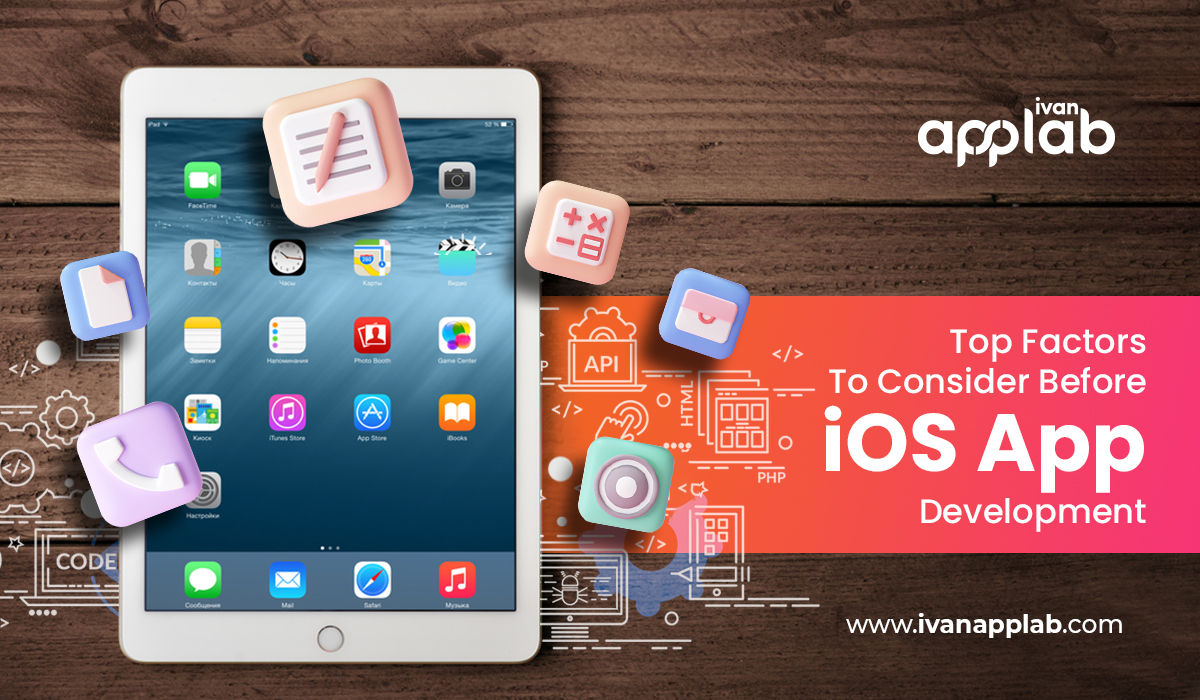 The first thing you need to decide before you get a mobile app developed is the platform for development. Your major options to get your app developed are either Android or iOS platforms. While Android dominates over iOS in the global market, the fact remains that iOS has a tremendous market share of 57.22% in the United States, 52.28% in North America and 51.4% in the United Kingdom. This makes it pretty obvious that custom iOS app development services are a profitable choice to give your business the boost it needs via an iOS app launched in the tech-savvy market, particularly among the top developed countries in the world.
Mobile Apps Are Everywhere
At the moment the consumer market is witnessing high demand for mobile apps of all varieties. From entertainment, business, on-demand, fashion, food delivery, travel and several others – users are constantly seeking different ways of instantly gratifying their needs. This can be seen in the fact that in 2020 the total projection of mobile apps downloaded was approximately 218 billion. This implies on average, each person in the world downloads around 30 apps per month.
Mobile Applications Are Highly Popular
The former dominance of websites is ebbing away. Currently, desktop computers and laptops are being passed over for smartphones. As a consequence, 87% of users invest more time on mobile apps than on websites. This is why businesses are opting for a custom iOS app development company to get their iOS app developed by professionals.
What Is iOS App Development?
It involves building mobile apps for Apple hardware, such as Apple Watch, smart Apple TV, iPhone, iPad etc. With the help of a custom iOS app development company, you will be able to build apps for a range of devices that function using the iOS platform.
iOS Is A Superior Platform
It is beyond dispute that iOS offers an optimized user experience. What's more, the iOS developer community gives tremendous support to its platform with a massive 64% of developers that come into play as dedicated iOS resources in the market. Thanks to the great reservoir of resources available, you have the choice of handpicking and finalizing the type of resources you want for your iOS app development. With the help of custom iOS app development services, you will be able to figure out the details, namely the budget, scope, expertise and duration of your project.
What The Numbers Show
Of the 5 million apps available for download, approximately 2 million applications are available on the Apple App Store.  Despite its smaller mobile app market share, when it comes to spending money, Apple users come out on top, at nearly double that of Android users. It all comes down to providing functionality that users will find appealing, easy to use and primarily it needs to fulfil some practical use for the users. If you play your cards right and take the help of a custom iOS app development company, your app will find success in the market and gradually gain momentum to become a popular option for download in the App Store.
 In the realm of technology iOS is a force to be reckoned with. iOS apps offer an abundance of unique advantages. So make sure you opt for the right custom iOS app development services to get elegant, feature-rich apps.