Top 4 Types of Sports Mobile Apps In High Demand
September 21, 2021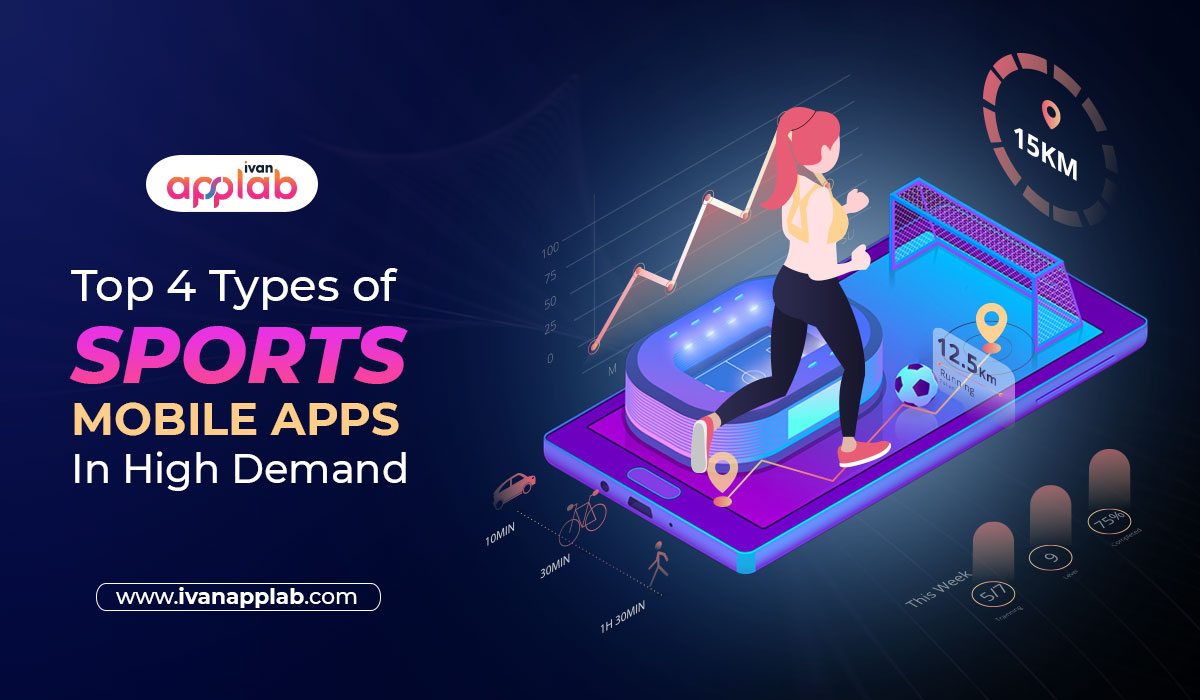 Despite the fact that scores upon scores of individuals are sports fans, the manner by which they consume them has evolved with the emergence of smart devices, and particularly apps that are being used as a central part of life today. Research has shown that 70.3% of adults in the U.S. second screen (use an additional mobile app to optimize the TV experience) as they are watching sports on their television. Second screening in sports typically involves chatting about ongoing matches, getting stats of players and teams, placing bets, replaying game highlights and so on. It's no wonder then that a business would approach a sports app development company to get a slice of this profitable sporting by-product.
Let's check out some of the most popular kinds of sports applications offered in the sports domain.
Live streaming apps
While it's true that sports news apps offer a live stream feature there are other sports apps dedicated to offering a range of live streaming content. Using a sport live streaming app allows sports fans to stream various content related to their player, team or league, whether it's training sessions, vlogs or actual games.  In an effort to create engaging experiences for fans a sports app development company can add a live chat feature to give fans the chance to interact with each other and with their favourite players. Live streaming sports apps have tremendous monetization potential as several million users flock to these apps.
Team management apps
Managing a sports team is not an easy task. Team members, coaches, trainers, organizers, managers can make things easier with seamless communication and flow of information via a team management application. No longer will managers need to deal with emails or spreadsheets, they can conveniently generate online schedules and send timely notifications to alert everyone involved.
With a team management app you would also be able to smoothly draw up formations and lineups prior to games, schedule training and interactive sessions, request team members to attend events and so on.
Sports news tracking apps
One aspect that links most sports fans is that they constantly want to stay connected and updated on teams and the sport they love and support. Sports news apps are essentially aggregators of diverse types of content regarding any sport- team stats, score updates, player/team-specific news stories, championships and more. You can also get to watch interviews with players, coaches, athletes and experts from all the top sports such as basketball, football, baseball, golf and more. These apps can be customized according to the user's preferences, in terms of leagues, teams, players and sports.
Esports apps
It has been found that exceeding 250 million people view esports and this number keeps growing with each passing year. The staggering numbers indicate that esports are posing a challenge to traditional sports. Fans typically watch pro teams battle it out at esports tournaments, live or online through their smartphone apps.
These esports apps allow fans to have real-time interactions with other fans as well as the streamer, make donations to their favourite gamer and more. Esports fans can just pick the esports, players and teams they enjoy and get up-to-the-minute news, announcements, roster moves, live streams and so on tailored to their preferences.
The sports app development landscape is constantly introducing innovative apps that provide superior levels of user experience. It ensures that your users come back time and time again to engage with your app. While they don't replace television viewing, sports apps play a complementary role and allow fans to get the most from their experience. Any top sports app development company well versed in the domain will be able to build you cutting-edge sports apps with superior features and functionalities.