New Area for AI Chatbots to Shine – Genetic Testing and Counselling
September 23, 2021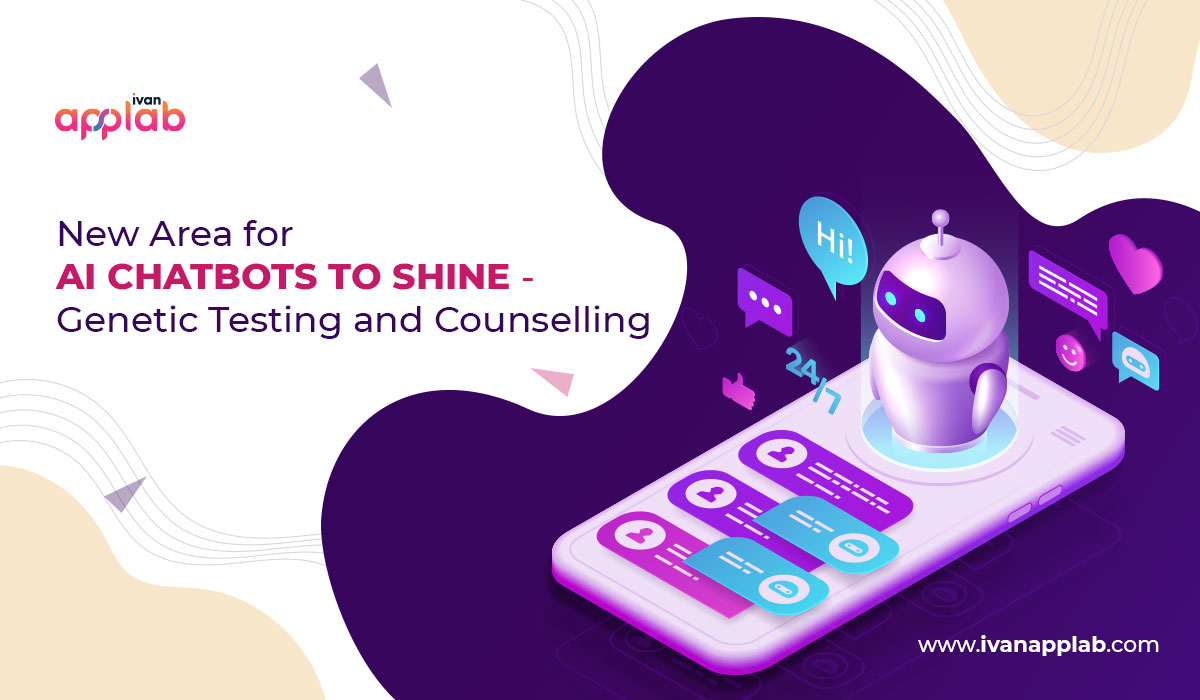 Recently, genetic counseling chatbots have been developed by some AI chatbot development services providers, and a handful is currently in use. Genomics is becoming increasingly popular, which has led to an increase in the need for genetic counselors, who are trained to help patients understand and use genetic information. Currently, only 4,900 genetic counselors in the United States are licensed by the National Society of Genetic Counselors. A clinical genetic counselor is available to around 1 in 100,000 Americans.
In other words, how can we respond to the growing demand for genetic testing from patients without over-hiring? The answer is AI chatbot development services. 
Numerous genetic testing companies began using artificial intelligence (AI) to solve the problem. Genetic companies are exploring everything from powerful machine learning tools, to patient-facing chatbots, in order to meet this need.
Role of Chatbots in Genetic Testing 
There have been healthcare chatbots in existence for some time now. Bots have become increasingly popular in the DNA industry, but many companies aren't sure where and how to use AI chatbot development services.
Look at the most popular genetic testing chatbot use cases:
Find the Test
It is possible for patients to match their medical data and genetic tests using HIPPA compliant healthcare chatbots. It might be daunting for consumers to choose from the number of diagnostic tests available nowadays. Doctors could save time by not having to collect the patient's medical history in order to determine which test is appropriate and if the patient needs any. The chatbot might enquire if the family has a history of genetic problems. 
Consent bot
Doctors' workdays include a lot of administrative tasks. Approximately 10-20 hours each week are spent by doctors filling out paperwork. In addition to collecting permission and medical information, AI chatbot development companies can help doctors organize their patients' histories into an electronic health report. For doctors, this can save a lot of time, and for patients, it would be more interesting.
Ordering tests
So that the patient may request and pay for their tests without having to leave the bot's chat window, the chatbot enables payment connections such as PayPal, Stripe, etc. Just a few clicks and the patient's test is on its way to them. In the present COVID-19 situation, numerous companies are sending test kits directly to patients' homes.
Get test results
Genetic counseling is overloaded because of the huge volume of genetic tests being performed, and patients may have to wait weeks to acquire their test results and speak with a doctor because of the high volume of genetic testing being performed. It is possible for the AI chatbot development company to deliver negative test findings and explain to the patient what they signify. So that the patient understands their results instantly, the bot might provide a brief explanation of the results and answer related queries for them. As an alternative, the chatbot may offer to make an appointment with a doctor for a more in-depth explanation or positive test findings.
Chatbots in Genetic Counselling 
In recent years, as chatbots have become more sophisticated, they have been used in a variety of fields, including medicine.
For a variety of health concerns and disorders, chatbots have been directed and used by patients. As an example of a more broad health application, consider mental and physical health (such as positive psychology and good behaviors), addictions (such as alcoholism and smoking), and sexually transmitted diseases (such as AIDS/HIV, syphilis).
This can be useful for individuals who are struggling with addictions, for example. It can also be used by those with sexually transmitted diseases.
Patients' experiences with AI chatbot development services in the medical profession are the focus of a large number of studies on chatbots in the medical industry worldwide.
Even though a small percentage of patients prefer to only utilize chatbots for logistical purposes (such as making appointments), the majority of patients believe that chatbots can be useful.