The Nitty-Gritty of mCommerce That Will Help Your Business to Excel
June 7, 2021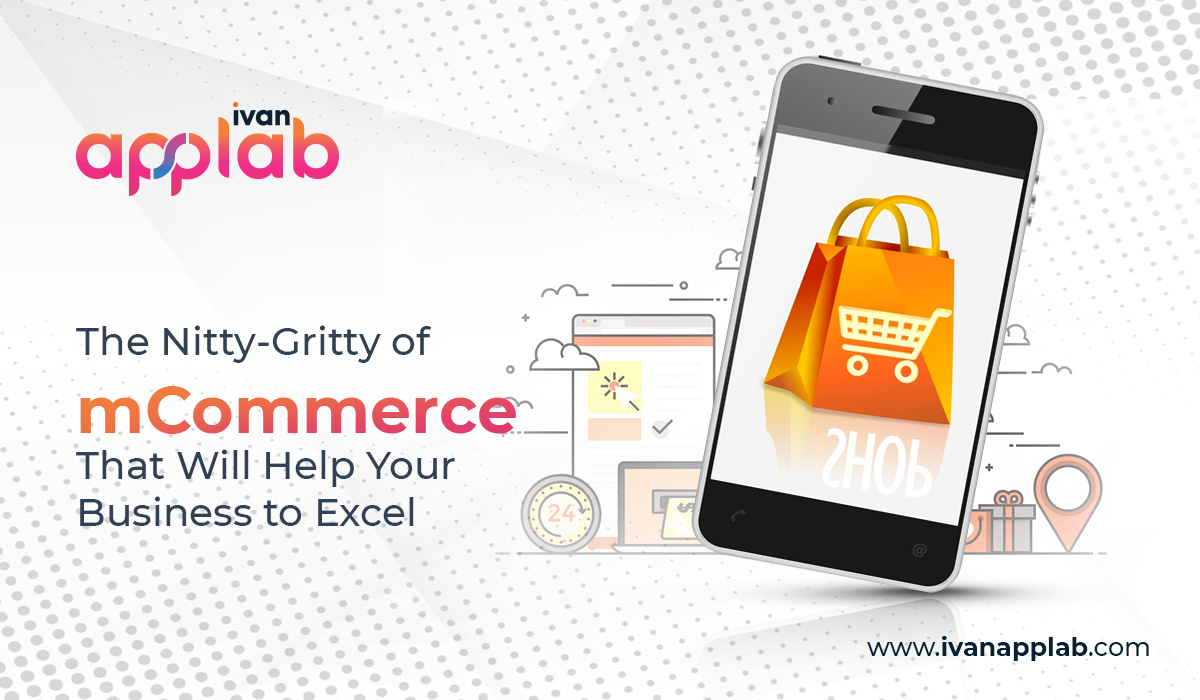 The e-commerce industry is seeing the most important creation of mobile solutions dictated by the need to meet consumer requirements as a result of increasing online sales. Consumers require the right to buy goods and services from anywhere and anytime. More online shoppers, therefore, tend to sites with a more advanced speed, convenience, and adaptability to mobile e-commerce use. How will mobile commerce app development help retail companies that do business in the digital space? Continue reading to learn.
Why Developing Mobile App for eCommerce Business
A survey carried out by Google found that approximately 58% of m-commerce app users tend to use such applications for discounts, comparison of costs, analysis, and purchase. And 66% of consumers buy anything once a week. Also, 9 out of 10 buyers are around the clock on their phones. And they choose to use mobile devices over the desktop, which encourages mobile commerce app development.
Also, when people are using mobile devices, they prefer more easily and impulsively to purchase things because they don't have to go, find money to buy, etc. You just gotta click some buttons on smartphones.
But what are the benefits of getting mobile commerce app development? First, about 61 percent of the customers can be retained. These are the latest trends in mCommerce that help mobile trade applications.
Chatbots
Companies such as Spotify, Pizza Hut, and many others are also using smartphone chatbots. Why does this happen? More than half of their clients prefer chatting and emailing to connect with their staff. Chatbot thus helps consumers find an optimal solution if their problems arise and chatbots are available 24/7.
In addition, chatbots use artificial intelligence (AI) and machine learning (ML), which enables the collection, analysis, and application of customer knowledge. Chatbots can also find a better way to solve customer problems as they forecast and provide a better experience to their queries. Mobile commerce app development integrated with a chatbot can thus revolutionize the business goal. 
Augmented Reality (AR)
While AR has been around for many years, its popularity is now increasing rapidly. AR can support uncommon apps and provide users with a more exciting experience. And statistical information speaks for itself:
Applications with AR functionality are more perspective-oriented and appealing to 60 percent of clients than other applications, and so, 70 percent uses technology such as AR in mobile commerce app development.
Geofencing
This trend of mobile commerce app development contributes to revenue growth and brings business success. Geofencing tracks the position of users and when, for instance, users in the vicinity of a brick and mortar receive alerts to purchase something at a preferred price. This will satisfy your customers with quality service and give you more advantages.
Omnichannel
You can find your customers in as many ways as possible because your omnichannel experience is real. Details about your company or brand should also be made available on any common social media site, so physical stores should be closely linked to your digital stores. Contact and engage your future customers with all available platforms.
One-click Purchase
This technology was patented by Amazon so that nobody else can use it in its market. The patent expired however in 2017 and all brands will attempt to incorporate a one-click shopping button in their mobile commerce app development.
Why is the buying button with one-clicking a pattern in m-commerce? Users won't have to re-enter their personal details, they will have to purchase something with one click. This button helps to boost impulsive shopping.
Personalization
Websites that can give them a customized experience are more attentive to users.
The online shop collects customer information via social media and messages using ML algorithms. The information gathered allows AI to anticipate what users are going to buy next and what they want to know. AI in mobile commerce app development helps consumers understand exactly what they are looking for.
Big Data
For you, big data algorithms are better. These algorithms will provide you with useful knowledge on current, and future patterns. You will also still recognize that today's goods are in demand. In the light of the price of rivals, Big Data integration in your mobile commerce app development allows you to determine the best price for your commodity.
E-Commerce to M-Commerce -The Transition
The market for mobile app growth is now a thriving niche with the 2008 launch of the App Store and Android Market, which leads to a fast rise in the number of available applications.
The number of applications on the main mobile app delivery channels available for download exceeds 4,4 million units in the first quarter of 2020.
This is super comfortable since customers can order from hundreds of shops directly and pay for them by hand-held devices (smartphones, tablets), so the trend has grown in popularity.
The preferred shopping platforms on Black Friday and Cyber Monday 2019 were mobile telephones and tablets, which accounted for 69 percent of overall transactions, according to Shopify.
What are the reasons why mobile commerce app development is one of the most common IT addresses today? Software applications for mobile devices provide retailers with new channels to link to their customers and reach a broader public. For online shops with mobile technology, there are also several other advantages.
Key Ingredients to Lure Customers in mCommerce 
It is important to understand customers' pulse to reach them. With efficient mobile commerce app development you can assimilate all those ingredients to transform your target audience to potential buyers. 
It is important to let people know the details of the product; it helps in gaining trust and create a loyal customer base. 

The shopping cart should save all items, always; it would save and effort of the shopper. 

The app must be secure, the information buyers are providing you should not be misused ever. They should trust you in that. 

The checkout process should be smooth and convenient. Keeping it simple will enhance your buyers' base. 

Add automatic prompts would save customers' time and effort of search.

The search bar should be visible and prominent. 
Therefore, you just have to be careful and follow every tip wisely in order to achieve your objective with mobile commerce app development. Just take the right path!
We, as a mCommerce App Development Company provide a great opportunity for your digital business plans to be implemented successfully. Please get here if you want to learn more about and receive answers to your questions on our mobile and e-commerce skills.