How Competent UI/UX Can Revolutionize Your mhealth Approach 
September 30, 2021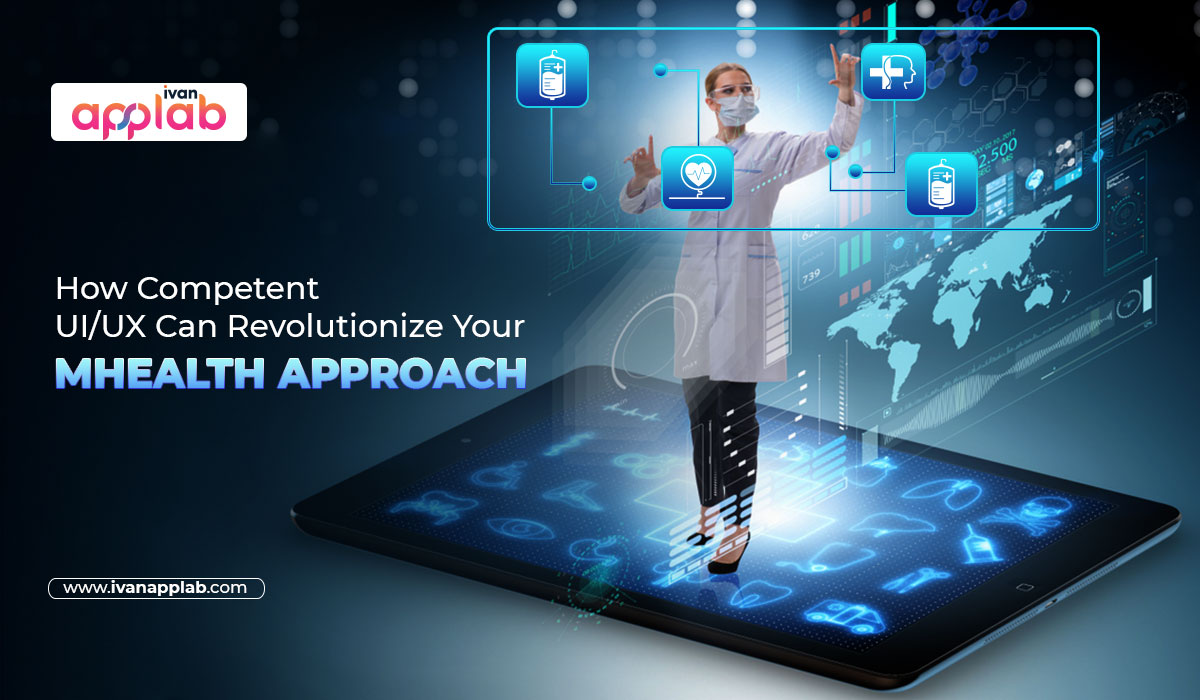 Mobile health applications can be important for the communication of doctors, patients and other care providers in real-time. 40% of doctors have confidence that the frequency of clinical visits onsite may be reduced by mHealth app development services and technologies.
According to a survey, over 25% of American doctors use at least one mHealth app and 93% of doctors believe that mobile apps can improve patient health quality. Although telemedicine tools remain popular, they are frequently used by millions to monitor health and fitness, the rate and sleep habits. Although mHealth instruments are still in their emerging stages. The popularity of Smartphones and tablets drives the rise of mHealth, with an increase of over 38.26 per cent estimated to be around 111.1 billion by 2025.
Despite all excitement and expectations around mHealth, one of the key reasons for this is 98% of digital start-ups with poor usability. 1 out of 5 products fails because of an unfavourable product experience which also applies to mHealth application development services. Usability tests can prevent these terrible consequences, but correcting them could be difficult, particularly in the field of healthcare where there is more concern than acceptance because the information involved is sensitive and tight rules of compliance.
Here are four main instances of how mhealth app development companies are using UX to improve patient experience in healthcare:
Effective Communication 
There are various UX health-unique factors that mhealth app development companies use to simplify and improve the app experience. Language is one of these aspects. To be effective, the user does not just need to effectively navigate the app, he also needs to understand the information provided. This means that apps must remain conversational, and needless medical language must be avoided.
This objective is also achieved by providing facts in order of significance and gravity. Seeing a list of all possible symptom diagnoses can be harmful rather than useful. If the application doesn't specify the danger for every illness, the patient has to worry and what. Use terms such as "likely" and "unlikely" in order to help the user depart from every possible diagnosis.
Visuals can also help a patient grasp what applications are communicating. There is an entire business that has only been formed to naming prescription drugs—and it doesn't easily recall them simply because their names are anchored in science.
Personalized Healthcare Delivery
Many mhealth app development companies try to provide knowledge resources to their users to prevent the dangers of self-diagnosis, but this successfully includes personalising the know-how.
Many apps have simply taken the information they gave on the Internet and delivered it via mobile in the early stages of health tech. The AI and machine learning integrations nowadays leverage the patient's particular data to adapt to the experience of every user.
This shift towards customization makes programmes not only more efficient but also more caring. The health demands of each person are unique, and the personalization of healthcare implies that the needs of the entire population are met.
Protecting Patients' Information
Work in healthcare means that the information involved is strictly regulated on account of its severity and sensitivity. In privacy and safety requirements, there is minimal opportunity for flexibility.
Innovative and creative solutions for better UX in healthcare mean the provision of experiences, while always following the requirements to keep the information of the user secure. This inventiveness takes the shape of being able, via easy procedures and compliance with UX design in mhealth app development services, to transmit the same content in an accessible way. This is achieved through decreasing distractions in the app, minimising supply chains/processes and creating user connections.
More Accessibility
A key aspect of user experience is accessibility while designing a health app.
A mobile application allows people to access care wherever they want. And smooth UX makes users more ready to learn and accept new technology.
An AI chatbot is one feature that many apps have started to include to promote a sense of familiarity. Any apparent human connection can make a user feel more comfortable looking for health care through mobile phone, and chatbots simulate the patient-to-medicine relationship.
The User Interface is an application that is presentable, attractive, aesthetic and intuitive. Due to the great uncertainty and hesitation of healthcare IT solutions users, the quality and features as the user need to be instilled are all the more vital. Awareness and effort of the mhealth app development companies can play a major role in ensuring that users are familiar with the design of the app.