Top Facts to Consider While Investing in a Wellness App Development
June 30, 2022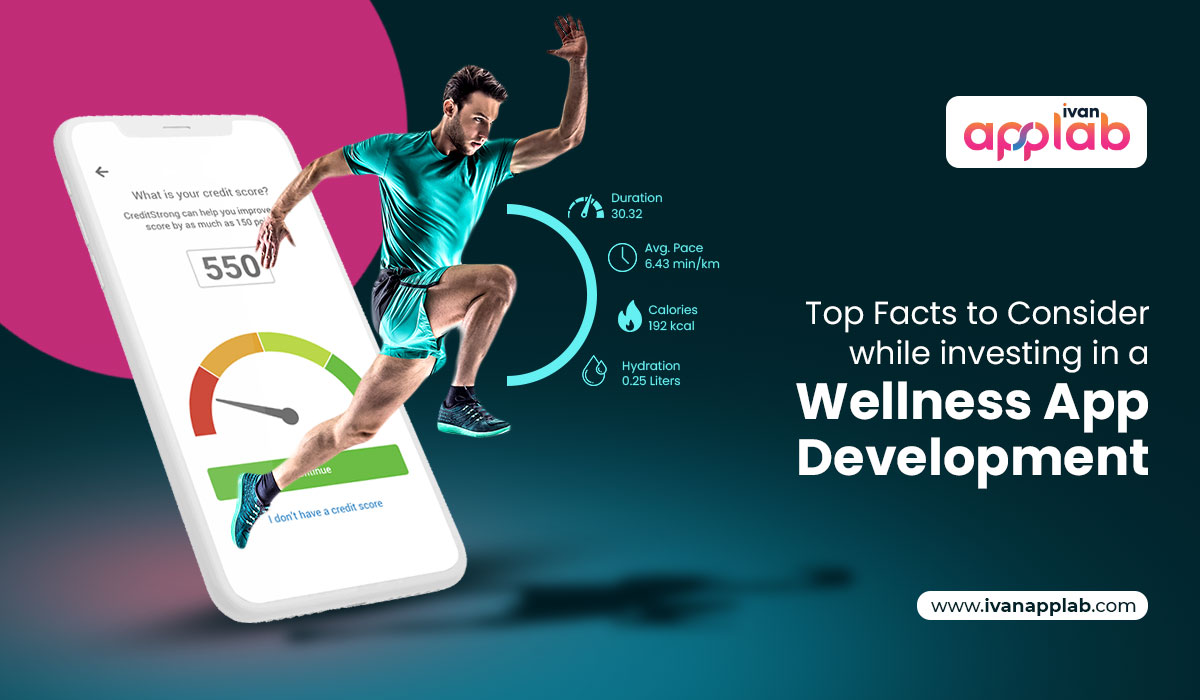 Are you a fitness freak?
Do you use any kind of fitness and wellness software to track your workout and diet routine or order medicines online?
In the present, post-pandemic world, every second person has been extra conscious about their health. However, most of the time, even if you are trying to lead a healthy life, it becomes a tad bit challenging. 
As a matter of fact, even if you are trying to stick to the same routine of rigorous exercise and following a strict diet to achieve the goal, at some point most of you would lose the motivation to continue. You will eventually stop following the regime and get back to square one. Well, this is the case for most people. Or, other times if you are trying to buy medicines and get it delivered to your old parents at home, these apps will help you with it. 
This is where the companies providing wellness app development services step in to help you with the process.
If you are a wellness company wondering about whether to build wellness software for your customers then stop thinking and get into the process right away!
Why Invest in Fitness and Wellness Application Development?
The intervention of technology is bringing a revolution in every industry and the wellness and healthcare industry is not an exception. In order to gain more customers and also provide the existing customers with a more personalised and seamless experience, the enterprises are investing in wellness app development.
The chief motive of these companies is to provide a user-friendly wellness app with exemplary and unique features to cater personalised requirements of the targetted audiences. Developed solely by keeping in mind to help the customers monitor their fitness regime and keep going with the motivation. By enabling the apps, your customers will not only be able to track the insights of their diet and workout, but if you want, you can also enable the doctor appointment and blood collection feature for your customised app. 
Factors To Consider before investing in Fitness and Wellness Applications
Are you looking for building one of these wellness applications for your business?  Then here are certain factors listed below that you need to consider before making the investment in the digitization process.
Type Of Wellness or Fitness App
Before diving into the app development, decide on the type of fitness or wellness application that you want to build for your business. Since there is an array of wellness and fitness apps available and in different specific markets, it caters to different audience types. The market offers different types of applications such as :
Understanding the Customers
Perhaps this is the most important part of the wellness app development services that you as the company require to experience success. Being aware of your customers and understanding the customer market and their preferences will help you go in the long run. You have to keep in mind the customers and users while developing the app. 
Type of Platform
Another important factor to consider while opting for a fitness software solution is the type of platform you want to create the app for. Decide if you want to aim the android users or the ios users. This is important because this will indirectly impact your revenue generation depending on your platform preferences. 
Customized Features
Finalizing the features that you want your wellness app to have is crucial and depends on the type of app you want to build for your customers. Incorporate your features wisely as it will enable you to engage users accordingly and will bring you revenue.
Strategy for Monetisation
A monetization strategy should be on point from the initial phase while planning and building wellness app development services. It will demand proper strategic marketing support post and pre-launch phase. As per your preferences, opt for the subscription-based model, in-app advertising app, or even the premium model. 
So, if you are planning to opt for wellness app development services, make sure to consider the above-mentioned factors so as to get the maximum profits and results by engaging the users and customers. However, try to research more before investing for a better and more effective strategy.