Why Flutter is The Best Framework for Developing Next-Gen Application?
December 21, 2021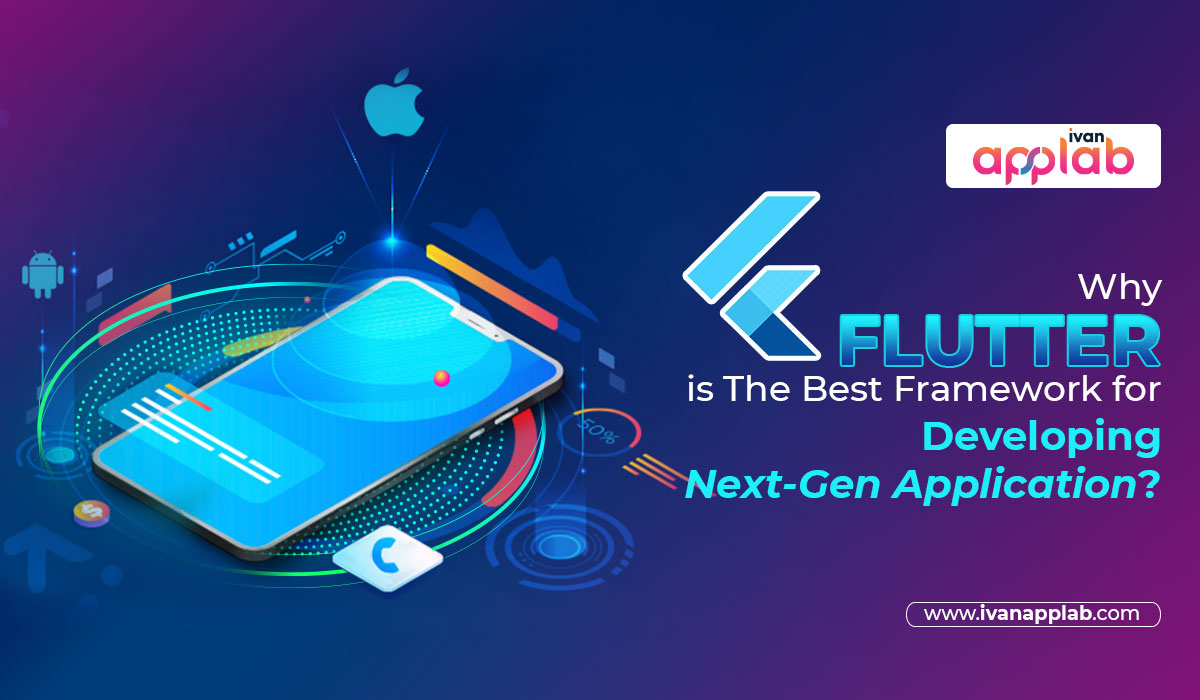 Have you ever wondered as to why the Flutter framework has gained so much popularity in recent times? Or does it offer something extra as compared to others?  In this blog, we will try to address all the burning questions that you have in your mind about flutter. We hope that the blog will clear your doubts and help you make an informed decision about choosing a flutter app development services provider. 
Yes, the application industry is going gaga over the apps developed using Flutter. There are several reasons behind the popularity of this open-source framework by Google. But the factor that makes it stand out is its capability to make applications work in the desired direction.  Additionally, it has the advantage of being a cross-platform application. Due to this, there are millions of possibilities that open up and Flutter can also help you in maintaining the varied dimensions of developing an application. 
Find it fascinating? So read on to know the reasons that have made Flutter the go-to framework for developing next-gen applications and flutter app development services providers the most sought after. So, without much further ado, let's start. 
Defining Flutter
Flutter is an open-source framework created by Google. Using it you can develop cross-platform applications using a single codebase. This means that the user can use Flutter and a single codebase to develop apps for different operating systems like iOS and Android. 
So, What is the Buzz around Flutter?
Well, Flutter has become the favorite framework for developers due to a very simple reason. As a platform Flutter promotes seamless animation, wonderful design, and brilliant performance. In-short Flutter can offer you just the right platform and tool to develop applications that captivate your user's attention. This is one of the reasons why flutter app development services providers are in-demand these days. 
Flutter was released in 2017 by Google. It employs a dark object-oriented programming language that saw a 532 percent increase in 2018 and 2019. The word spread like wildfire, and more people began to trust Flutter than ever before. In reality, it provided incredible services to companies like Alibaba, Google Ads, My Leaf, and others.
Here are some interesting facts that you should note about Flutter before hiring a  flutter mobile app development services provider. The top five nations that are benefitting from the platform are China, India, the United States, Brazil, and the EU. There are around 50000 Flutter-based applications that were launched in the Play store and around 10000 others that were uploaded over the last couple of months. 35% of the Flutter developers work in startups and around 19% work as freelancers. 
And the craze around Flutter is not going to fade soon as over the next 5 years it is going to cover about 60% of the app development market. 
Why is Flutter so popular? 
The Reduction in Development Time
A midsized Android program on the test device typically takes roughly a minute to transition. If you're lucky, the procedure will go smoothly and the fit will be ideal, but most of the time you'll need to spend extra time modifying the arrangement. Yes, we are aware that we can correct the layout with Android Studio. However, you should be aware that it has restricted capabilities and you may not obtain exactly what you desire.
However, the hot reload feature of the flutter makes it possible to instantly check the applied changes. This can help in saving time and effort. That is why developers from many flutter app development services providers prefer Flutter. 
Better Time-to-market Speed
Who wouldn't want their items to reach the market as quickly as possible? However, in order to do so, we frequently have to sacrifice quality. Thankfully, we now have Flutter. Flutter is a programming framework that works faster and better than any other platform.
Can be used for both the iOS and Android
Another reason that makes Flutter the darling of developers from many flutter app development services providers is that it offers them the liberty to develop apps for both iOS and Android while using a single codebase. Additionally, the portable GPU allows the developer to use it on different interfaces. 
So, the verdict is out. Flutter is 'the platform' for developing apps for the future. So, why wait? Connect with a flutter mobile app development services provider like Ivan Applab now and develop apps for the future.