News Websites Vs News Apps- What Do Your Readers Prefer?
April 18, 2022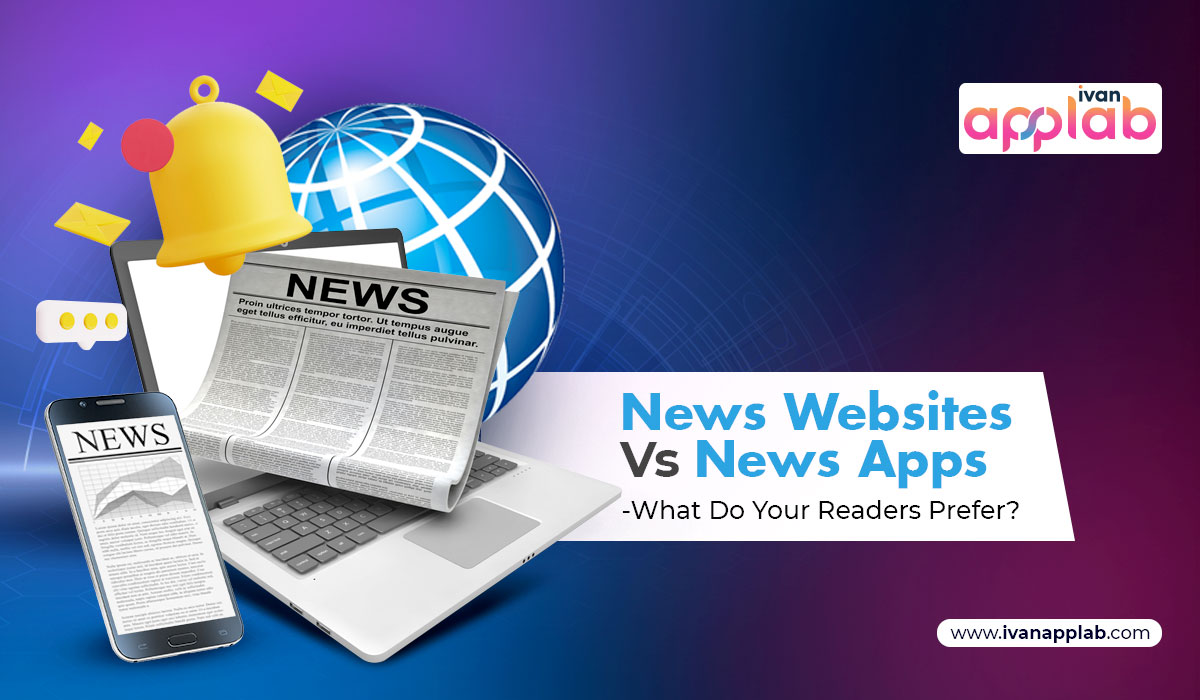 Let's face it; people tend to spend a significant amount of time on smartphones. Media businesses and publishers have the chance to profit from this mobile app popularity by building a native app to satisfy their target audiences' needs.
Usage of smartphones has surpassed desktop usage by a long margin. People are investing most of this mobile device time engaging with mobile apps. With news app development services you get a product that allows you to place your content in a prominent place i.e. the user's phone, ripe for the time when the user is on the lookout for a clever way to pass their leisure time. It shouldn't come as a revelation that users read up to 10x more content on apps in comparison to their visit to a mobile news site.
The familiarity of the app experience
Today's new readers want valuable content in a bite-sized format. No one wants to have to rummage around an elaborate website to get it.
An intuitive, native mobile app will be able to cater to a range of your reader wants. A few taps on their phone will allow them to quickly access your content while they travel, in their spare time, or every time you share a pertinent push notification from your news app.
Through news app development services app content should be made available with a straightforward swipe gesture. These gestures are familiar among smartphone users and they will find it convenient to use them while consuming news on a well-made app. Apart from this, a presence on an app store is quite a leg up when you want to be found by as many people as possible.
Elevated user experience
Just as most app users, your news readers have expectations to experience a native app look and feel from all the businesses they find trustworthy to gain content from.
They expect quickly loaded articles, smooth navigation with simple gestures, offline usage and no disturbing pop-ups or banners.
Amp-up engagement
Distinct from mobile websites, your app is where you cater to a loyal, familiar audience. A mobile app holds dedicated space in the thick of things. Users have specifically chosen to install your app, and come to your app to check what you have for them each day.
With sufficient prominence on a user's phone home screen and timely touch points with push notifications, you have the means to boost engagement and drive traffic.
Turning visitors into loyal readers
With creative app banners on your mobile website you get a smooth way to convert your website visitors into mobile app users. In fact, they are sure to use your app much more than they'd engage with your website.
And after they've installed your app, you can persuade them to keep coming back, time and again, through well-made push notifications. One of the main advantages offered by native apps is the potential of push notifications to boost user engagement.  This is why media businesses opt for news app development services.
If utilized well, notifications have the capacity to keep bringing your news readers back to check you offerings. In case you include social features and integrations users will share your content on their own accounts, directly from your app.  
Need to create an attractive new app for your business? Top publishers have already built engaging news apps that users are swarming to install. You can take advantage of news app development services offered by Ivan Applab, a top-rated company for intuitive app development.