Improve Customer Experience with AI Chatbot App Development
March 16, 2022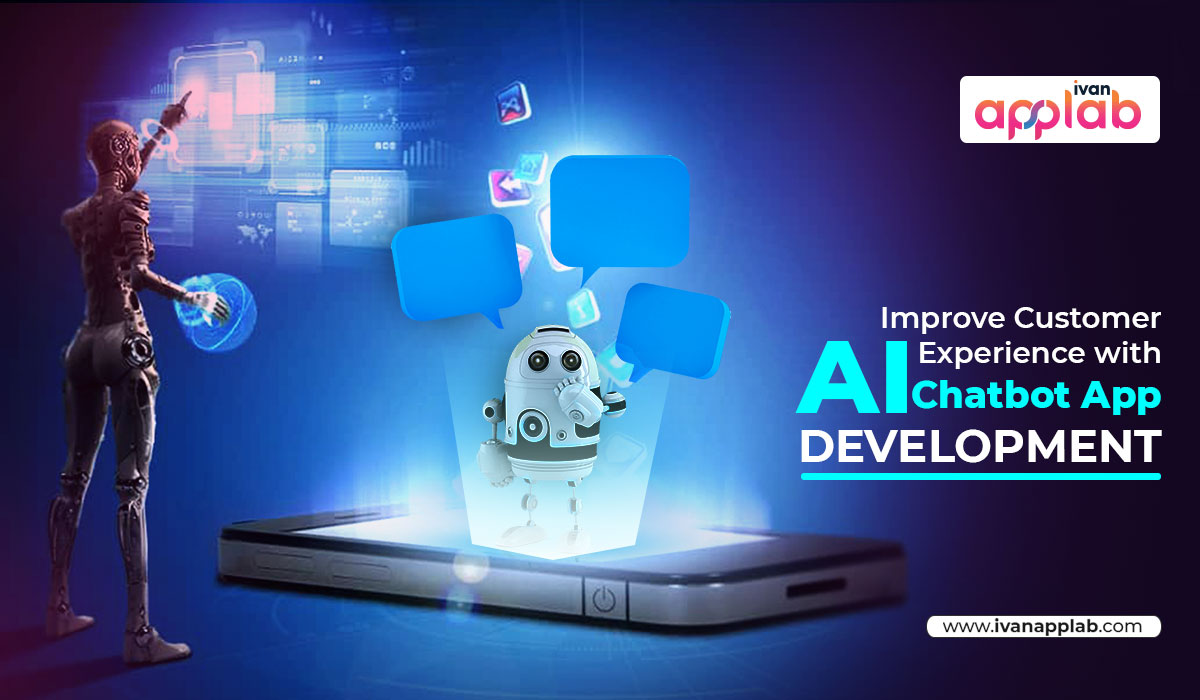 Strong, individualized, and proactive customer service is required. It's especially true in 2021 when the COVID-19 epidemic and disruptive mass digitization of operations have wreaked havoc on the business sector. Consumer desire for better, faster, and more personalized interactions does not wait for many firms to implement new technologies.
Are you aware that in the United States, customers switching firms due to bad service costs businesses $1.6 trillion? A positive customer experience is critical to gaining consumer loyalty and with AI Chatbot app development services you can achieve that. Customers that are loyal to your brand are five times more likely to purchase from you again and four times more likely to recommend it to a friend.
About Customer Experience 
The impression that purchasers have of your brand during their journey can be characterized as a customer experience. It has an impact on how they perceive your brand and on your bottom line results, including revenue.
Why Customer Experience Is Important
To stay in business and expand, you need to provide a positive customer experience. A positive customer experience builds loyalty, boosts customer retention, and boosts brand advocacy.
Without a question, more businesses are investing in technology to improve customer service, particularly in artificial intelligence (AI). AI Chatbot app development services are something every company is investing in. This is due to their automated capabilities, accessibility to a wide range of data, and availability.
About Customer Service Chatbot
Chatbots for customer care are created with the goal of assisting customers at various stages of their journey. Up to 70% of simple, FAQ-based client questions may be answered by the smart customer service bot, and customers can be directed to other information or resources on your website.
Such AI Chatbot app development services also have the added benefit of lowering the quantity of contact center inquiries received, allowing customer support personnel to focus on more difficult client issues rather than regurgitating information that might simply be automated or located in a FAQ.
Chatbot for Customer Satisfaction
Customer care AI Chatbot app development services are not only functional, but they also appeal to your customers' emotions. They boost user retention and loyalty by making the entire contact process between the firm and users more enjoyable and individualized.
Multiple language Support: Providing services in many languages necessitates the recruitment and hiring of additional personnel, which is both time-consuming and costly. Meanwhile, AI Chatbot app development services enable businesses to deliver multilingual services by utilizing technology that can be easily trained on datasets in several languages.
Upgraded Personalization: Advanced customization from the first interaction between a user and a live chatbot is one of the direct benefits of profiling. Chatbots, unlike humans, can quickly gather information about customers and adapt content, dialogue, and recommendations to each individual.
Simple Customer profiling: AI Chatbot app development services also make it possible to get immediate input from users without bothering them with questionnaires and feedback requests. They're ideal for implicit customer profiling, which involves collecting data about a user's shopping/browsing history, past purchases, preferences, and some personal information in a continuous and automated manner.
Better Brand Recognition: A chatbot can be a great impersonator for a company or product, in addition to being a helpful assistant. If you give it a distinct voice and make it multi-channel, potential clients will begin to associate your brand with your chatbot.
Automation: Implementation of AI Chatbot app development services can also be used for resource management, reducing human efforts, improving staff performance and many more.
Continuous Support: One of the biggest drawbacks of human support is the requirement to have someone on duty at all times. When combined with irregular schedules and excessive working hours during peak sales periods, service quality can suffer. AI Chatbot app development services tackle this problem by delivering automated service 24 hours a day, seven days a week.
Added Revenue Channels: Shopping assistants can virtually be applied to service fees to enable in-chat payment alternatives, or inject affiliate marketing, increasing the number of revenue streams available to you.
When will you implement AI Chatbot app development services for your business?