Can Flutter Help To Build Responsive Mobile Apps?
April 8, 2022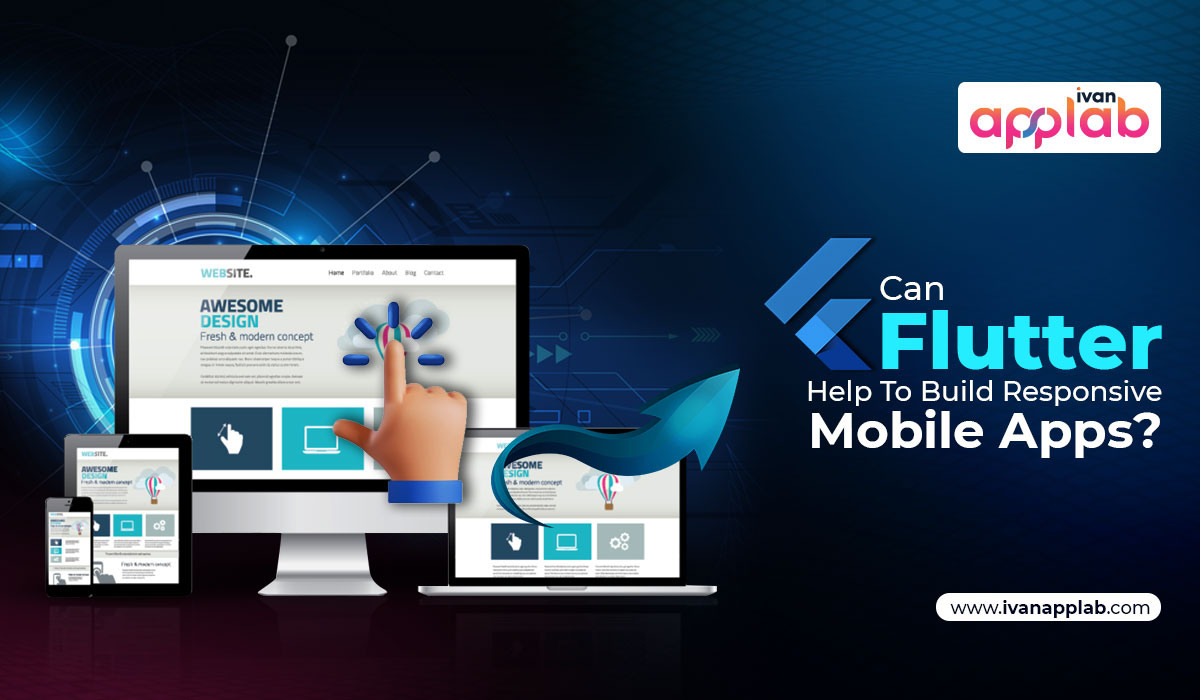 Over time the demand for applications has smoothly shifted from desktop to smart devices. And this is owing to the rising focus of the developers on building highly engaging and responsive UI layouts for applications.
Nevertheless, executing responsive UIs in different applications becomes an elaborate undertaking for designers in practice. UI is responsible for various functions like optimizing app content for all types of device screens, implementing changes in the app and so on. At any rate, mobile applications should respond smoothly to the changes made to the layout. To this end, businesses make use of Flutter mobile app development services to benefit from enhanced UIs.
Being an advanced UI toolkit from Google, Flutter enables developers to create attractive, natively compiled apps that are optimized for various platforms such as Web, Desktop (Windows, Mac, Linux, Google Fuchsia) and Mobile (Android, iOS).
It is a widget-based technology, so when using Flutter you would be able to tailor or modify widgets without any friction. What's more, it offers UI widgets that cater to the major design requirements of mobile and web applications.
Key Factors to Focus To Build A Responsive Layout With Flutter
For the past few years, building responsive mobile apps has become a major requirement for app owners.  The question that arises is, 'what are the critical factors that will contribute to making this a reality?'
Responsive design takes three aspects into consideration- device type, size and orientation. A modification to any one of these aspects leads to a modification of the app UI. You can opt for Flutter mobile app development services to get a UI-optimized app.
Be it laptops, tablets, smartphones or smartwatches, apps that are built with a responsive UI are compatible on a range of devices, without the need to build separate interfaces for each of them.
What makes Flutter so in demand for app development?
Flutter is the sought-after SDK for app development because of its advanced features and qualities. Let's look at some of them:
As it is an open-source SDK it is not only freely accessible but also offers comprehensive community support and documentation, making it great for first-timers to start developing using Flutter.
As a cross-platform framework, you will be able to develop an app for both Android and iOS with just a single code-base when you employ Flutter app development services.
While the framework is still young it has been adopted by a bunch of big-name brands such as Toyota, Amazon, Alibaba, Google and more.
Another point in favor of Flutter mobile app development services is that it is simple to work with, owing to the fact that it uses Google's Dart programming language.
Using hot reload enables you to accelerate the process to update or release your Flutter apps. During development, code modifications can be made immediately on simulators, emulators and hardware, with no need to keep restarting the app while it's running. This feature is the major highlight of Flutter, making it the top choice among developers when including the latest features, designing UIs and fixing bugs as well.  
So, if you want to develop an application for your business, then partner with Ivan Applab and gain superior Flutter mobile app development services to fulfill your requirements. If you'd like to discuss the benefits of using the Flutter SDK for your project, contact Ivan Applab for a free consultation.