A Golden Opportunity To Capitalize On IPL 2022 With Your Own Sports App
April 5, 2022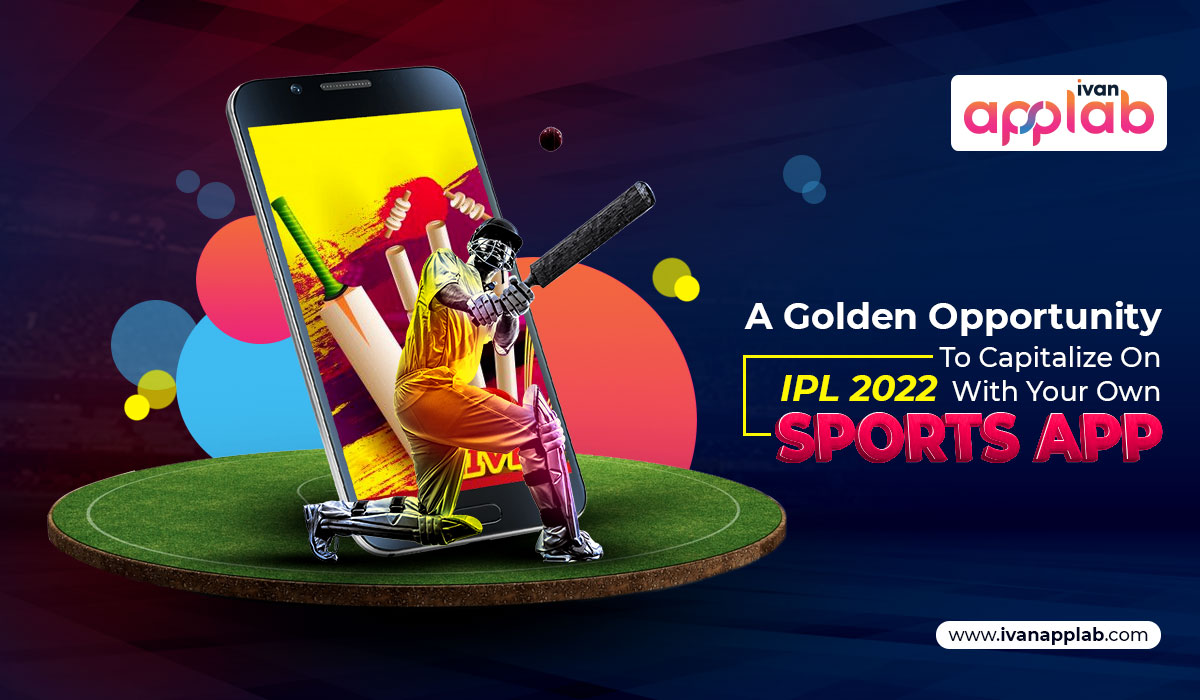 With the 15th season of IPL (Indian Premier League) underway, those who are looking to create a fantasy sports app can jump on the IPL bandwagon and reap considerable returns through this extremely popular sport.
The big tournament and several matches that will take place make it a dream come true for anyone planning on creating a fantasy sports app. If that's you, then all you need is the help of an experienced sports app development company.
An overwhelming number of fans will watch these matches all around the world. In its fantasy sport avatar, cricket enjoys a tremendous fan following both in India and countries across the globe. The demand for fantasy cricket apps has resulted in an unprecedented level of success for all stakeholders.
The onset of COVID-19 has meant that sports enthusiasts living across the globe have turned to online avenues to explore their favorite sport. It allows them to bask in a simulated experience created to indulge fans in various ways. When it comes to IPL, the sheer numbers of fans spread across different countries, watching the matches all through the season is enough to convince anyone to take advantage of the numbers. Even virtual start-ups can build their brand and rake in revenue in this 15th season of the IPL once they create their very own fantasy sports app.  
With the help of a sports app development company you can create a fantasy sports app where users will set-up their fantasy teams and win actual cash if and when the players they have picked perform well in real life. Many see this as the closest the typical sports fan would come to betting.
What Features To Include In A Fantasy Sports App?
Simulated sports apps gather data from scores of prior matches and render an almost life-like simulation that allows cricket fans to remain hooked to IPL anytime, anywhere.
Some of the features that you can include in your fantasy sports app to enhance user experience is a live ball-by-ball match commentary, statistics of player performance alongside fantasy scores, scorecard updates as well as match facts and related news. You could also opt for a feature that allows your users to form groups that include fellow sports fans and take part in interesting contests and monitor their group's progress throughout the tournament on a dynamic leaderboard.
What's more, a sports app development company can make sure your fantasy sports app has features that allows fantasy cricket enthusiasts to have one-on-one chats with one another, using GIFs, emoticons, stickers and the like to make it appealing to today's users.
A Golden Opportunity
The IPL season offers an excellent window of opportunity to create and gain returns from lucrative fantasy cricket apps. You will be able to increase engagement in real-time and fan the fervor of cricket junkies everywhere.
Because of the global pandemic, IPL matches will not have any spectators, yet this plays to the advantage of fantasy sports app owners. They will get the chance to engage the billions of cricket fans by offering a convenient platform with abundant sources of entertainment and the possibility of winning rewards.
Scores of fantasy cricket gamers are swarming to relatively new fantasy sports platforms, as when the competition is low the opportunities for winning prizes becomes even higher than usual. So, want to connect with a sports app development company to create your own fantasy cricket app?