Low-Code and No-Code – How Significant It Is for Finance Mobile App Development
March 14, 2022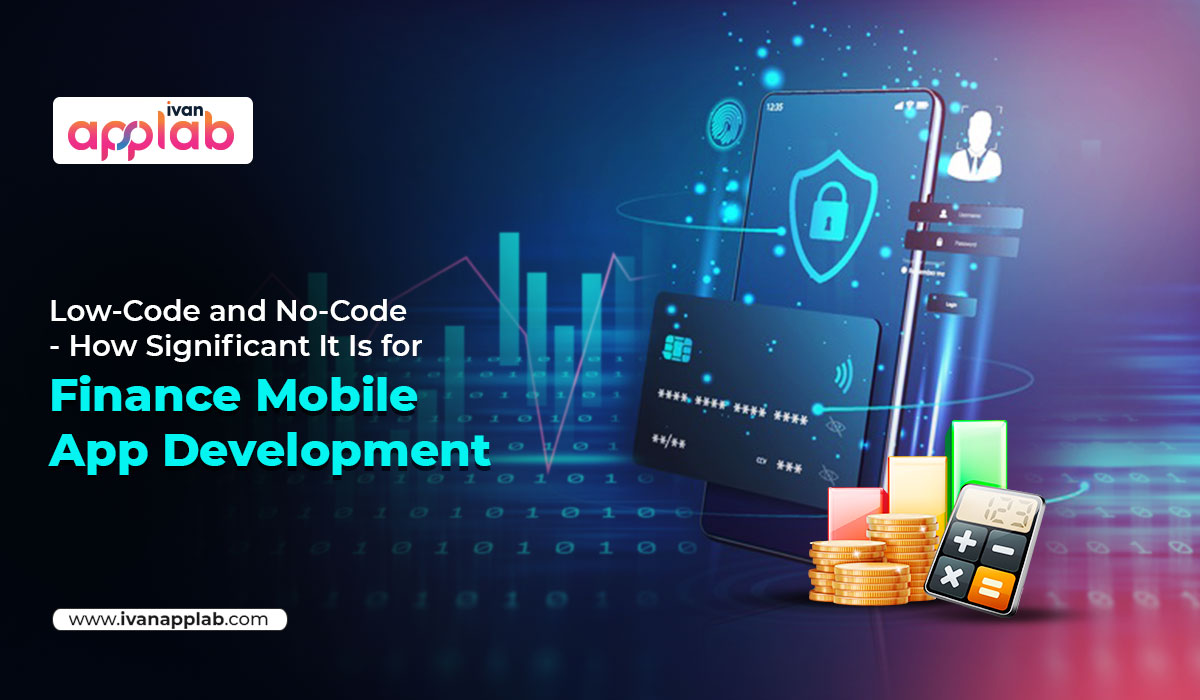 Keeping up with the pace of change and incorporating more digital elements into customer-facing activities is difficult for banks and financial institutions. They have complicated legacy systems to manage, and finding the time to shift to digital transformation is often tough.
But the pandemic pushed this endeavor of digital transformation. Given that, in the next years, the global economy will continue to shift toward a digital and highly technology paradigm.
65% of buying partners are still cautious to move quickly on the digital front.
Low-code platforms have arisen to help fight the financial services sector's slow adoption of digitization. Software development from an esteemed finance mobile app development company may be completed in 80% less time and with 80% less talent.
Key Requirements of the Financial Sectors
There are a variety of no-code and low-code solutions available from several finance mobile app development companies that are being used by various industries in their digital transitions. Can they, however, meet the following financial industry requirements?
Adaptability
As the world changes, the technology that enables financial sectors to survive and prosper must change as well. Low-code and no-code platforms can help businesses solve problems more quickly and at scale by giving the application development job to those who need to solve them rather than a software specialist. The financial business is a complicated and fast-paced environment with unique requirements that can only be satisfied by technology that provides efficiency and flexibility, which legacy systems sometimes lack.
Acceleration
For a finance mobile app development company, increasing the pace of software development is a top concern. Faster development enables faster delivery to the market and clients, allowing your company to stand out from the crowd. Additionally, having access to client feedback allows your company to make real-time adjustments, which can help you build stronger relationships with your customers.
Simplicity
Since financial firms scale and evolve, legacy systems remain an issue. What that overlooks, however, is the fact that working in this industry does not always imply optimization and growth.
One advantage that no-code and low-code solutions can provide to the financial industry is the ability to avoid and overcome "old technical debt." The various complexities that exist within the financial markets necessitate the necessity for simplicity. Low-code and no-code solutions can provide the foundation for addressing these intricacies and integrating with current systems. This can save time, human resources, and money because these systems can be developed continuously in-house rather than investing in new ones.
Considerable factors for No-code or Low-code for Financial Industries 
These products should never have been viewed as a one-size-fits-all solution to all of our IT problems. We must comprehend not just what it is good for, but also what our aims are, just like any other instrument and professionals of finance mobile app development company. What is the precise need that must be met? What industry are we targeting with our deployment? What technical, regulatory, and systemic challenges must we overcome?
Unappropriate Strategy
Digital transformation isn't simply a buzzword in the industry; it's happening and progressing on a daily basis. To stay competitive, businesses must have a concrete plan and strategy to address issues such as tight compliance and data security regulations, an overreliance on old technology, and the need to provide applications rapidly.
Ever-changing Customer Needs
Customers' and clients' needs change all the time, depending on the situation of the industry. To meet these demands, a business must have access to flexible and adaptable and technologies.
Legacy Traps
When it comes to the growth of a financial company during this shift, legacy systems and laws might be a huge obstacle. Within this market, there is a lack of reaction and readiness to modify these outdated systems, yet it is vital for growth.
Budget Constraints
Financial businessowners should be aware of budget allocation and investing in new ventures because the industry is constantly changing in terms of technology, compliance, and market swings.
Although difficult, the challenges of financial industry can be overcome with the help of a finance mobile app development company if your business goals are clearly defined and you don't get trapped by a one-size-fits-all solution. Needs and goals will differ from one company to the next, but tools that help in low-code and no-code tools can assist in achieving them if used strategically.