Avoidable Factors to Consider While Choosing Entertainment App Development Services
March 23, 2022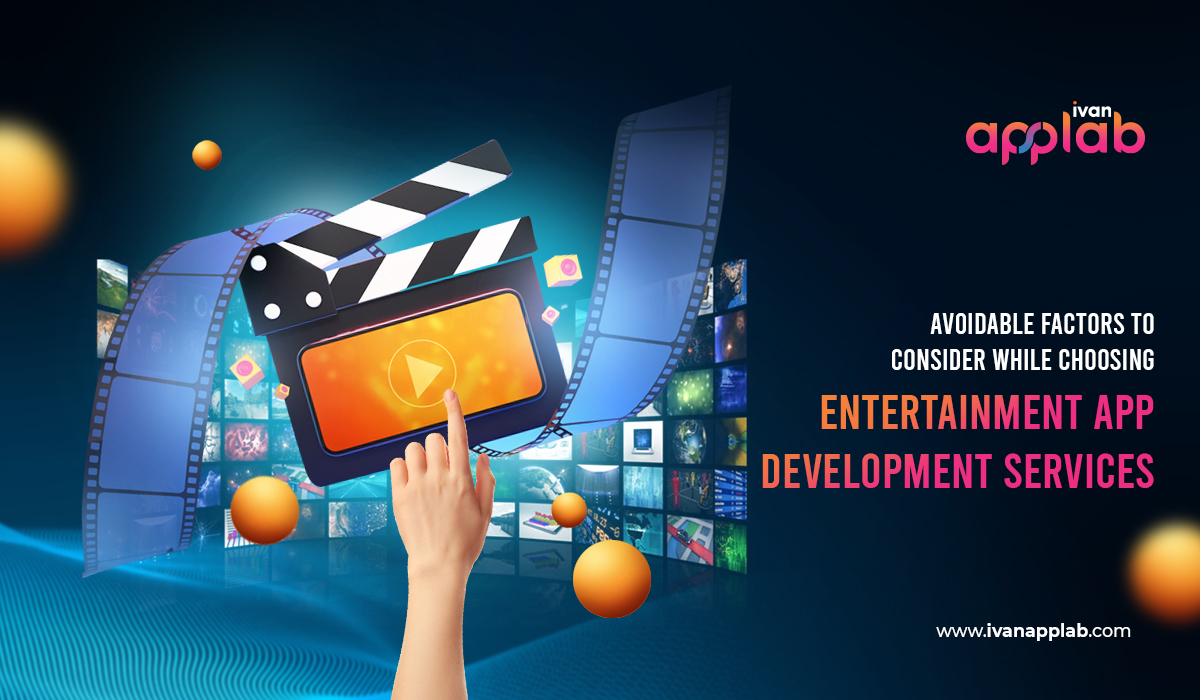 The need for entertainment app development services, particularly from mobile app development companies, has risen steadily over the previous decade. Fortune 1000 corporations, start-ups, and individual entrepreneurs are leaving no stone unturned when it comes to offering excellent customer experiences.
Every year, large sums of money are invested only for the purpose of developing a business mobile app that will prove to be a game-changer for their respective owners. An effective mobile app is critical to a company's entertainment business performance, so it's critical for owners to hire a custom mobile app development company.
It's not easy to find a decent IT company for entertainment app development services. When choosing an IT firm that can achieve the required results in terms of user experience and income generation, numerous variables must be considered.
Understanding the App Requirements
A thorough examination of your business requirements is the most crucial stage in developing an efficient mobile app. This can assist you in better understanding the type of mobile app developers you require.
Key points to consider here: 
The purpose of the app – whether the app will help in your business expansion or starting up a new one. 
Your business goals and the ways to achieve those. 
Understand the target audience
Functionalities you want in your business and technologies you want to implement. 
Budget
It's time to look into the market when you've completed your project study. A wide range of IT staff augmentation and entertainment app development services are available in the mobile app development market. Depending on your project requirements, you can hire a dedicated team of mobile app developers from an IT firm or freelancers.
Reviews and Feedbacks
If you really want to identify the company's ace and expertise, one of the best ways to do it is to check the feedback and the reviews of the clients and stakeholders who have worked with the company earlier. They would have a better picture of the company's entertainment app development services to let you understand whether you should choose their service or not. 
Experience
Looking at a company's years of experience can help you figure out whether it's dependable or not, as well as how long it's been in business and how successful it is.
Security System
The most serious threat to today's businesses and entrepreneurs is the leakage of app ideas and concepts. Companies who offer entertainment app development services must guarantee that the IT firm they hire to design and create their enterprise mobile apps adheres to a set of tight security guidelines. Before it hits the app stores, the app idea and concept must be kept secret. To ensure the confidentiality of the app concept and idea, the development company should be willing to sign a non-disclosure agreement.
Delivery Efficiency 
For effective and faultless entertainment app development services, the organisation must keep their clients informed about the progress of their product at all times. Having regular dialogues about the app development process also guarantees that the final product is delivered on time. As a result, enterprises and companies must ensure that their development company adheres to successful delivery management service requirements.
QA and Testing 
It's not enough to have a great app design and development methodology. To ensure that the final product is free of technical faults or defects by the time it reaches the app stores, development companies must use the most up-to-date human and automated Quality Assurance and testing measures.
By producing higher income and increasing the number of viewers, the media and entertainment sector has taken on a new dimension. You may acquire many kinds of amusement with an entertainment app development services, such as songs, news, movies, TV shows, and so on.
If you've been considering establishing an entertainment app for your company, now is the moment.